All models of this dramatically styled 2021 Rolls-Royce Wraith coupe come with a 624-hp V-12 engine, rear-hinged doors, and the signature Spirit of Ecstasy hood ornament.
Beyond that, buyers can customize their chariots in all sorts of ways, making their Wraiths into commissioned works of art. And much like commissioned works of art, the pride of ownership is steep. But you probably already guessed as much. It's a Rolls-Royce, after all.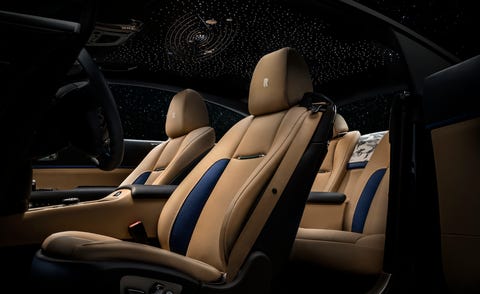 Engine, Transmission, and Performance
The 2021 Rolls-Royce Wraith prodigious twin-turbocharged 6.6-liter V-12 produces 624 horsepower and 605 pound-feet of torque and mates with an eight-speed automatic transmission. Exclusively a rear-driver, this Rolls-Royce delivers handling that's poised and controlled.
Its steering is lightly weighted, and its air suspension is calibrated to prevent bumps and jolts from jostling the car's passengers. We estimate that the 2021 Rolls-Royce Wraith will sprint to 60 mph in about 4.3 seconds.
Fuel Economy and Real-World MPG
The Rolls-Royce Wraith has an EPA fuel-economy rating of 12 mpg in the city and 18 mpg on the highway. For reference, the Bentley Continental GT delivers much better mileage, offering 16 mpg city and 26 mpg highway.
Interior, Comfort, and Cargo
The 2021 Rolls-Royce Wraith coupe seats four people, with a bucket seat at each corner. The cabin blends old world craftsmanship with modern touches. The center stack is adorned with a pair of sleek circular air vents, and the front seats have a massaging feature that can soothe sore muscles on long drives. With the 2021 Wraith, you get 17 cubic feet of cargo capacity.
As such, this grand tourer offers more room for your stuff than the Bentley Continental GT coupe, which provides just 13 cubes. The Wraith's options list includes ventilated front seats along with a bevy of upholstery choices and interior finishes.
Safety and Driver-Assistance Features
Neither the National Highway Traffic Safety Administration (NHTSA) nor the Insurance Institute for Highway Safety (IIHS) has given the Wraith an overall crash-test rating.
2021 Rolls-Royce Wraith comes with a respectable selection of driver-assistance features designed to prevent crashes. However, there are a couple of notable omissions: A blind-spot-monitoring system isn't available; neither is forward-collision mitigation.