Automobile giants Audi has released the new models for the 2022 Audi e-tron/sportback which has a sci-fi-sounding name that teases its all-electric nature, but otherwise it looks like and acts much like a traditional mid-size luxury SUV. Its coupelike counterpart­­, the e-tron Sportback, has a more interesting appearance but still doesn't command nearly as much attention as the gull-winged Tesla Model X or the jazzy Jaguar I-Pace.
While Audi skips the typical EV styling that appeals to the tech crowd, both e-trons boast a sophisticated and tranquil interior, with the fastback Sportback sacrificing some practicality for fashion's sake. A pair of potent electric motors provide all-wheel drive and near-instant acceleration, but both versions are better at cruising than cornering. The 2022 e-tron and e-tron Sportback have short range estimates (218 and 222 miles, respectively), but they offset that with notable fast-charging times, provided a capable charging station is nearby.
Engine, Transmission, and Performance
Beneath the 2022 Audi e-tron/sportback's heavily creased bodywork are two electric motors, one located at the front axle and the other at the rear. Together they provide electronic all-wheel drive, but the rear motor does most of the work. In regular driving situations, they make a combined 355 horsepower and 414 pound-feet of torque. However, putting the transmission in Sport mode briefly unlocks 402 ponies and 490 pound-feet. Our driving impressions revealed that the e-tron was swift and composed.
Its snappy acceleration is typical of electric vehicles, and the smooth and quiet ride quality confirmed its luxury bona fides. Its stopping system expertly blended its traditional brakes with the obligatory regenerative braking system. However, we were disappointed that its regen wasn't aggressive enough to enable one-pedal driving during our test of the Sportback model. Still, the e-tron demonstrates traditional SUV characteristics with the ability to tow up to 4000 pounds.
Range, Charging, and Battery Life
The regular e-tron has an EPA-estimated driving range of 222 miles, and the Sportback version is rated at 218 miles. However, both variants still trail rivals such as the I-Pace (234 miles) and the Model X Long Range (up to 371 miles). Every e-tron features an impressive 150-kW fast charger that allows it to replenish 80 percent of its battery in about 30 minutes. By comparison, the Jaguar EV has a 100-kW DC charger that takes longer to recharge its battery. Those using a more conventional 240-volt outlet will be able to fully charge the e-tron in about nine hours.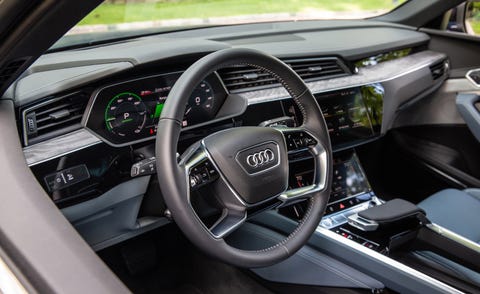 Fuel Economy and Real-World MPG
The 2022 Audi e-tron/sportback SUV is expected to earn 78 MPGe combined, and the Sportback model is rated slightly lower at 77 MPGe combined. We tested both body styles on our 75-mph highway fuel-economy route, which is part of our extensive testing regimen. The regular e-tron returned 67 MPGe and the Sportback returned 75 MPGe. For comparison, the last I-Pace we evaluated achieved 64 MPGe in the same test. For more information about the e-tron's fuel economy, visit the EPA's website.
Interior, Comfort, and Cargo
The e-tron's most impressive technology is its electrified systems, but the five-seat crossover also has a cutting-edge and practical cabin. Its dashboard is packed with multiple high-resolution screens that include Audi's digital gauge cluster—called Virtual Cockpit—and two flush-mounted touchscreens in the center. Of course, there are a variety of upscale options such as a head-up display and massaging front seats to further round out the e-tron's sophisticated interior, which benefits from a flat floor thanks to its neatly packaged underfloor battery pack. That helps provide the regular e-tron with a commodious cargo area that measures 29 cubic feet behind the back row and 57 with the seatbacks folded flat. The Sportback's sloping roofline reduces both figures by 2 cubes, but we still fit seven carry-on suitcases behind its rear seats—one less than in the regular e-tron.
Infotainment and Connectivity
Every e-tron's infotainment system runs through dual touchscreens, with a 10.1-inch display on top and an 8.8-inch unit below it. While the upper screen provides access to the standard Apple CarPlay and Android Auto apps as well as the available Bang & Olufsen audio system, the bottom screen is mainly used for controlling the climate settings. Along with several power points, the system also features a subscription-based Wi-Fi hotspot; a wireless smartphone charger is optional.
Safety and Driver-Assistance Features
Audi deploys an array of standard driver-assistance technology on both e-tron body styles, and they're available with adaptive cruise control and self-parking assist. For more information about the e-tron SUV and e-tron Sportback's crash-test results, visit the National Highway Traffic Safety Administration (NHTSA) and Insurance Institute for Highway Safety (IIHS) websites
Full Specifications
2020 Audi e-tron Sportback
VEHICLE TYPE
front-engine, all-wheel-drive, 5-passenger, 4-door hatchback
PRICE AS TESTED
$89,490 (base price: $78,395)
MOTOR TYPE
2 induction AC motors, 184 and 224 hp, 228 and 262 lb-ft; combined output, 402 hp, 490 lb-ft; 86.5-kWh lithium-ion battery pack
TRANSMISSION
2 single-speed direct drive
CHASSIS
Suspension (F/R): multilink/multilink
Brakes (F/R): 14.8-in vented disc/13.8-in vented disc
Tires: Bridgestone CrossContact LX Sport, 265/45R-21 108H M+S AO
DIMENSIONS
Wheelbase: 115.0 in
Length: 193.0 in
Width: 76.2 in
Height: 65.0 in
Passenger volume: 102 ft3
Cargo volume: 27 ft3
Curb weight: 5819 lb
C/D TEST RESULTS
60 mph: 5.1 sec
100 mph: 13.3 sec
120 mph: 22.2 sec
Rolling start, 5–60 mph: 5.2 sec
Top gear, 30–50 mph: 2.3 sec
Top gear, 50–70 mph: 3.0 sec
1/4 mile: 13.8 sec @ 101 mph
Top speed (governor limited, mfr's claim): 125 mph
Braking, 70–0 mph: 182 ft
Roadholding, 300-ft-dia skidpad: 0.84 g
Standing-start accel times omit 1-ft rollout of 0.3 sec.
C/D FUEL ECONOMY
Observed: 73 MPGe
75-mph highway driving: 75 MPGe
Highway range: 220 miles
EPA FUEL ECONOMY
Combined/city/highway: 77/76/78 MPGe
Range: 218 miles
Photos