No matter which one of its silky powertrains is on duty, the 2022 BMW 3-series is supremely satisfying to drive. While its remarkable refinement is offset by a not-quite-great steering feel, its body is composed on any kind of road, its brakes are strong, and its ride is comfortable for daily chores. Plus, its interior is rich and roomy and it has a sizable trunk.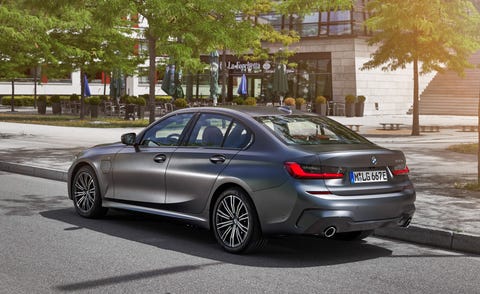 Engine, Transmission, and Performance
The 2022 BMW 3-series offers two smooth and potent gas-powered engines. The 330i features a turbocharged 2.0-liter four-cylinder that makes 255 horsepower and 295 pound-feet of torque. The M340i pairs with a turbocharged 3.0-liter inline-six that produces 385 ponies and 369 pound-feet. The 330e plug-in hybrid combines a turbo 2.0-liter engine with an electric motor that together generates 288 horses and 310 pound-feet. Our first impression of the 330e revealed a harmonious relationship between the gas and electric elements, and we like the plug-in's new Xtraboost function that provides a burst of power that feels like a shot of nitrous.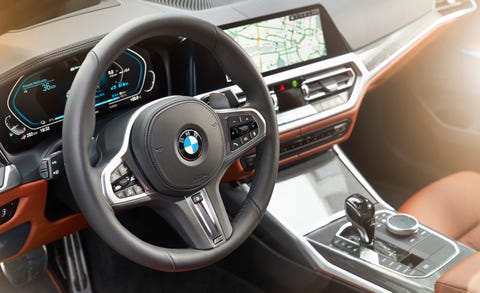 Each powertrain pairs with an exceptional eight-speed automatic transmission and standard rear-wheel drive. You can power all four wheels for a price. Unfortunately, a manual gearbox is no longer available. (Purists should hold out for the all-new BMW M3 if they need the stick.) Buyers can choose between two suspension setups on the 3: the base arrangement or the upgrade with adaptive dampers. Our first drive of this G20-gen 3-series was encouraging. The car's newfound steering feel provides more road-surface information and variable effort than its predecessor did, but it's still lacking compared with that of the 3's iconic early generations.
The four-cylinder Bimmer proved its worth by winning a comparison test against other sports sedans. We applauded its ability to transition from relaxed and refined to sharp and playful. The 330i also secured its spot at the top of its class by thwarting the gorgeous Alfa Romeo Giulia in a two-car comparo. Our long-term M340i further proves the nameplate's return to form, with its superb six-cylinder and remarkable body control.
Fuel Economy and Real-World MPG
The EPA estimates the four-cylinder 330i will earn up to 26 mpg in the city and 36 mpg on the highway. The more powerful six-cylinder M340i has ratings that top out at 23 mpg city and 32 highway. The rear-drive, plug-in-hybrid variant has a combined estimate of 28 mpg and an all-electric range of 23 miles. Both figures drop by 3 for the all-wheel-drive PHEV.
We tested a rear-drive 330i on our 75-mph highway fuel-economy route, which is part of our extensive testing regimen, and saw an impressive 42 mpg. Likewise, we conducted the same test with an all-wheel-drive M340i, which earned 33 mpg. For more information about the 3-series's fuel economy, visit the EPA's website.
Interior, Comfort, and Cargo
Inside, the 3 has a modernized design complete with excellent materials and impressive build quality. Nothing feels cheap inside the 3-series, and its controls are well placed. BMW also improved outward visibility, and the standard sport seats are well-bolstered and supportive, and they offer extensive adjustment so it's easy to get comfortable.
The car's extra-cost content includes a detailed head-up display, customizable ambient interior lighting, heated front and rear seats, remote start, and wireless charging. The BMW's digital instrument cluster is a bit cluttered but still attractive. Some may find the counterclockwise sweep of the tachometer needle odd at first, but you get acclimated to it quickly.
The 3-series has a big trunk with an available power-operated lid. With 17 cubic feet of cargo space, the gas-powered sedan can fit six carry-on suitcases back there and 17 total with the rear row folded. For comparison, the Mercedes-Benz C300 sedan held one fewer suitcase in both tests and the Alfa Romeo Giulia could fit five and 15, respectively. The 330e has less trunk space (13 cubes) because of its battery pack, and we haven't tested its carry-on capacity.
Safety and Driver-Assistance Features
BMW is skimpy when it comes to standard driver-assistance technology, providing only forward-collision warning and automated emergency braking. Other features are available, though. For example, the Parking Assistance package will practically park the car for you. For more information about the 3-series's crash-test results, visit the National Highway Traffic Safety Administration (NHTSA) and Insurance Institute for Highway Safety (IIHS) websites. Key safety features include: