The 2022 Chevrolet Camaro ZL1 coupe has been the thorn in the side of the Ford Mustang and Dodge Challenger SRT for some time, but since those brands released the Mustang Shelby GT500, and Challenger SRT Hellcat Redeye versions of their coupes, the hardcore ZL1 has been playing catch-up.
It's getting a little long in the tooth now, but it's still an incredible machine, thanks to a 6.2-liter supercharged V8 sending 650 horsepower and 650 lb-ft of torque to the rear wheels.
What keeps it exciting is the fact that it's still available with a standard six-speed manual transmission, although a slick ten-speed auto is also available. But is a stick shift enough to keep the 2022 Chevrolet Camaro ZL1 relevant?
For the 2022 model year, some of the ZL1 Coupe's options and features are shuffled around and there have been some changes to the color palette. Other than that, the 2022 model is mostly a carryover of the 2021 model.
Engine, Transmission, and Performance
The Camaro's supercharged 6.2-liter V-8 is a well-behaved and tractable beast that makes power all over the rev range and leaves black streaks all over the road. As you'd expect, when stirred up, it leaves the sound of thunder echoing in its wake.
Whether paired with the standard six-speed manual transmission or the available 10-speed automatic, the supercharged small-block V-8 lays down stupidly incredible performance figures.
The fast-shifting automatic results in quicker acceleration times than the stick, but either way, this Chevy is a demon at the drag strip. Already a satisfying handler with quick and communicative steering, a balanced rear-drive chassis, and a surprisingly supple ride, the Camaro is elevated to new heights by the ZL1 gear.
Its adaptive dampers change their stiffness based on the selected drive mode, but even the hardcore modes don't ruin the car's decent, if firm, ride. Want more? Grab the 1LE track package—available only on the coupe—which vaults the 2022 Chevrolet Camaro ZL1 into the near-supercar territory.
Its wider and stickier tires, manually adjustable front suspension, and exclusive spool-valve dampers help chew up racetracks and spit out happy drivers. The 2022 Chevrolet Camaro ZL1 stops from 70 mph in 143 feet, and the ZL1's brake pedal operates with a firmness befitting a performance car.
Fuel Economy and Real-World MPG
The words "Camaro ZL1" and "fuel-efficient" shouldn't be used together in a sentence unless the phrase "is not" separates them. With the automatic transmission, it's rated at 13 mpg city and 21 highway.
With the manual, those numbers change to 14 and 20, respectively. Surprisingly, the Camaro beats the Shelby GT500 in fuel efficiency, as the latter manages 12 mpg city and 18 highway.
The manual-equipped ZL1 1LE we ran on our 75-mph highway fuel-economy route, which is part of our extensive testing regimen, returned a measly 17 mpg. For more information about the Camaro's fuel economy, visit the EPA's website.
Interior, Comfort, and Cargo
Turns out 650 horsepower and a ZL1 badge do nothing to erase the current-generation Camaro's woeful outward visibility. It suffers the same thick roof pillars and high windowsills as other Camaros. Still, every ZL1 is well equipped out of the box and offers few options.
Standard equipment includes power-adjustable front seats with heating and ventilation, a heated steering wheel, and dual-zone automatic climate control. When it comes to the 2022 Chevrolet Camaro ZL1, performance and style take precedence over less sexy matters such as cupholder counts and cargo space.
There is very little interior stash space for small items and almost tacit admission on Chevrolet's part that the Camaro comfortably seats only two human beings. Behind the useless rear seats is a nearly as useless shallow trunk with an oddly shaped opening.
Infotainment and Connectivity
Chevrolet's touchscreen infotainment system is among the industry's easier-to-use units, with clear menus, large on-screen buttons, and popular features. It includes a Wi-Fi hotspot and wireless Apple CarPlay and Android Auto integration.
The 2022 Chevrolet Camaro ZL1 offers as standard nearly everything available on normal Camaros, including a Bose audio system, wireless phone charging, and a head-up display.
Safety and Driver-Assistance Features
The killer Chevy does offer a handful of driver-assistance technology. However, if you select either the convertible body style or the optional performance data recorder on the coupe, you'll have to make do without a forward-collision alert.
For more information about the 2022 Chevrolet Camaro ZL1's crash-test results, visit the National Highway Traffic Safety Administration (NHTSA) and Insurance Institute for Highway Safety (IIHS) websites.
Photos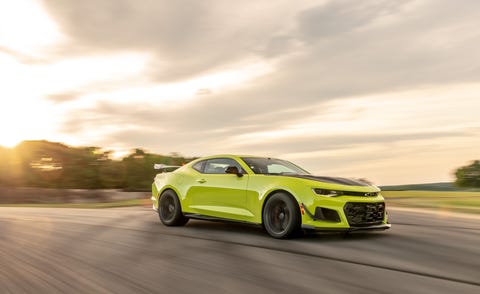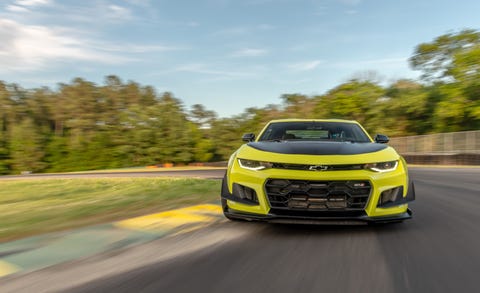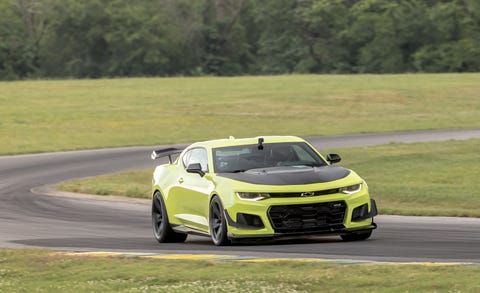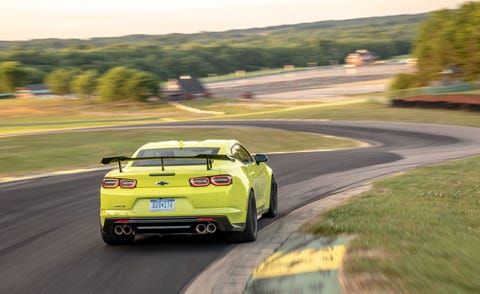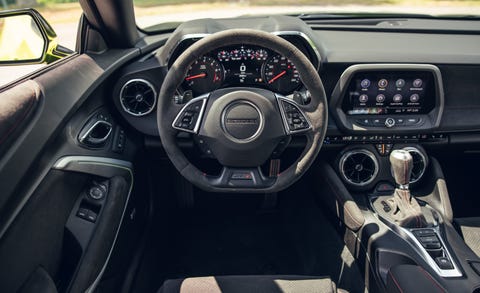 Full Specifications
2019 Chevrolet Camaro ZL1 1LE
VEHICLE TYPE
front-engine, rear-wheel-drive, 4-passenger, 2-door coupe
PRICE AS TESTED
$75,985 (base price: $72,195)
ENGINE TYPE
supercharged and intercooled pushrod 16-valve V-8, aluminum block and heads, direct fuel injection
Displacement
376 cu in, 6162 cc
Power
650 hp @ 6400 rpm
Torque
650 lb-ft @ 3600 rpm
TRANSMISSION
10-speed automatic
CHASSIS
Suspension (F/R): struts/multilink
Brakes (F/R): 15.4-in vented disc/14.4-in vented disc
Tires: Goodyear Eagle F1 SuperCar 3R, F: 305/30R-19 (98Y) TPC, R: 325/30R-19 (101Y) TPC
DIMENSIONS
Wheelbase: 110.7 in
Length: 188.3 in
Width: 74.7 in
Height: 52.0 in
Passenger volume: 83 cu ft
Trunk volume: 9 cu ft
Curb weight: 3886 lb
C/D
TEST RESULTS
Rollout, 1 ft: 0.3 sec
60 mph: 3.4 sec
100 mph: 7.4 sec
150 mph: 19.2 sec
Rolling start, 5–60 mph: 3.7 sec
Top gear, 30–50 mph: 1.8 sec
Top gear, 50–70 mph: 2.1 sec
¼-mile: 11.5 sec @ 124 mph
Top speed (mfr's claim): 190 mph
Braking, 70–0 mph: 137 ft
Braking, 100–0 mph: 268 ft
Roadholding, 300-ft-dia skidpad: 1.17 g
C/D
FUEL ECONOMY
Observed: 14 mpg
EPA FUEL ECONOMY
Combined/city/highway: 16/13/21 mpg