Ford has established itself as a force to reckon with when it comes to the automobile industry and the 2022 Ford F-150 Lightning is just one reason. The Extended-Range battery pack will also likely add a significant lump sum to the bottom line, but we'll have to wait until closer to the Lightning's on-sale date to know exactly how much.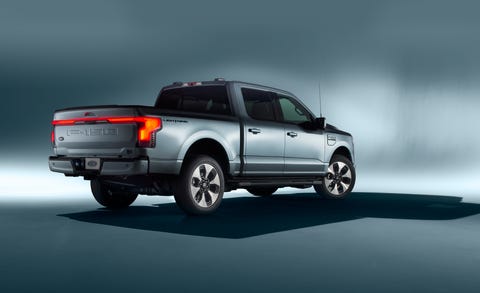 Engine, Transmission, and Performance
All 2022 Ford F-150 Lightning models come standard with two electric motors and all-wheel drive. With the Standard-Range battery, the motors combine to make 426 horsepower but with the Extended-Range battery the horsepower rating rises to 563; peak torque is an impressive 775 lb-ft with either setup. Performance should be brisk, but we'll have to wait until we can strap our test gear on to find out exactly how quick the new truck will be.
Ford has also submitted patents for a removable range extender motor disguised as one of those aftermarket, bed-mounted toolboxes. The motor would kick in to recharge the battery in the event there's no charging station nearby.
So far we haven't seen the real-life version of such a concept, but it could join the F-150 Lightning at launch as an add-on option.
Range, Charging, and Battery Life
With the smaller of the two battery packs, Ford claims a driving range of 230 miles per charge; upgrading to the larger pack boosts driving range to 300 miles.
Buyers will be able to charge their 2022 Ford F-150 Lightning at home via 110- and 220-volt outlets but the truck is also capable of juicing at public DC fast-charging stations, and Ford says it can charge from 15 percent to 80 percent of battery capacity in 44 minutes.
Ford also engineered the F-150 Lightning to serve as a backup generator and says a fully-charged truck can supply up to three days of electricity for the average household in the event of a power outage.
Interior, Comfort, and Cargo
Like the truck's exterior, the F-150 Lightning's cabin is much the same as the gasoline-powered F-150 with a few key differences such as an extra-large infotainment display and a voluminous front-trunk cargo bay. At launch, the F-150 Lightning will be offered only as a crew cab with a 5.5-foot bed, but Ford could offer Regular (two-door) or SuperCab (rear half-doors) configurations later on; longer bed options could also be added to the lineup.