The 2022 Ford Mustang Mach-E blends popular elements of the past and present in a highly desirable package that bodes well for the future of electric vehicles. While it seems sacrilegious that Ford would call a crossover EV a Mustang, pairing the iconic nameplate with an in-demand body style is smart marketing. Along with its attention-getting appearance, the Mach-E has a handsomely appointed interior that's brimming with the latest tech. It also has nifty storage solutions, a spacious back seat, and lots of cargo space.
Get behind the wheel and the electrified Mustang feels agile and quick. The sportiest versions are said to hit 60 mph in 3.5 seconds (quicker than a Mustang Mach 1) and the rangiest versions are estimated to travel more than 300 miles per charge. All that and more makes the 2022 Mustang Mach-E a transcendent EV.
Engine, Transmission, and Performance
The 2022 Ford Mustang Mach-E is available with either a standard-range 70.0-kWh battery or an extended-range 91.0-kWh pack. These feed an electric motor mounted on the rear or both axles. That latter combination creates all-wheel drive, and on the sporty GT and GT Performance models, the motors combine to make 480 horsepower and up to 634 pound-feet of torque. Ford claims this will send the Mach-E GT Performance from zero to 60 mph in just 3.5 seconds.
Less powerful models make between 266 and 346 horses and between 317 and 428 pound-feet. The Mach-E rides on wheels that range in size from 18 to 20 inches, and it can be had with adaptive dampers for adjustable ride firmness. The version we drove was an extended-range, all-wheel-drive model that was quick and better to drive than most ordinary crossovers. However, drivers shouldn't expect the Mach-E to be nearly as engaging as the traditional Mustang. Its quiet operation and super-smooth ride were most impressive.
Range, Charging, and Battery Life
The 2022 Ford Mustang Mach-E has an EPA-estimated range of between 211 and 305 miles, depending on the battery pack and type of electric motors, which isn't nearly as impressive as the rangiest Tesla models. Every model also has a fast-charging capability. Every Mach-E comes out of the box with a Ford mobile charger that can add up to 30 miles of range per night with a 120-volt outlet and up to 80 percent of battery life overnight with a 240-volt outlet. A Ford charge station can also be ordered online and installed by certified electricians, with the ability to replenish 32 miles per hour and recharge the battery overnight.
Fuel Economy and Real-World MPG
The range-topping Mustang Mach-E with rear-wheel drive and the extended range battery boasts an EPA-estimated range of 305 miles. The all-wheel-drive version with the extended battery has an estimated driving range of 270 miles. However, there are a wider variety of ranges depending on the model and equipment.
The Mach-E with the larger battery that we tested on our 75-mph highway fuel-economy route, which is part of our extensive testing regimen, went 250 miles on a single charge. Based on the increased capacity for 2022, we think it'll add about 8 miles of real-world highway range. For more information about Mustang Mach-E's fuel economy, visit the EPA's website.
Interior, Comfort, and Cargo
The 2022 Ford Mustang Mach-E's battery is located under the floor of the car, which allows for maximum cargo and passenger space. Unlike its exterior, the inside of the Mach-E has little in common with the regular Mustang. Its streamlined dashboard hosts an attractive digital gauge cluster and is dominated by a huge vertically mounted touchscreen. A floating, flip-up armrest on the center console allows a purse or other items to be stored between the front-seat passengers.
There are also many slick features that include the customizable ambient interior lighting, heated front seats, a heated steering wheel, wireless charging, a panoramic sunroof, and more. The front trunk is made of durable plastics that can be rinsed and then drained, which allows storing ice and messy things. The 2022 Ford Mustang Mach-E has 29 cubic feet of cargo space behind the rear seats, and up to 60 with the back seats folded.
Infotainment and Connectivity
Ford's next-generation SYNC infotainment system uses machine learning to fully customize each driver's experience—currently it supports three driver profiles and one guest. The Mustang Mach-E runs the software through a vertically mounted 15.5-inch touchscreen that allows for easy access to the system's array of apps and features. A benefit of the system is that Ford will roll out over-the-air updates over time, constantly improving the system and adding new content. Top features include Apple CarPlay, Android Auto, a mobile Wi-Fi hotspot, and a Bang & Olufsen audio system.
Safety and Driver-Assistance Features
The 2022 Mustang Mach-E is available with a wide array of driver-assistance technology. For more information about the Mach-E's crash-test results, visit the National Highway Traffic Safety Administration (NHTSA) and Insurance Institute for Highway Safety (IIHS) websites.
Photos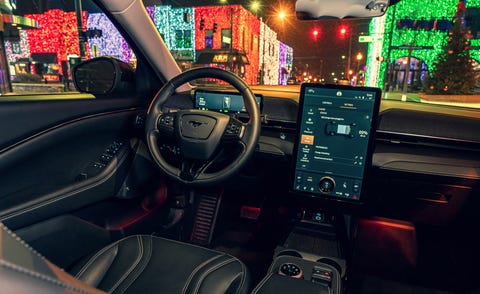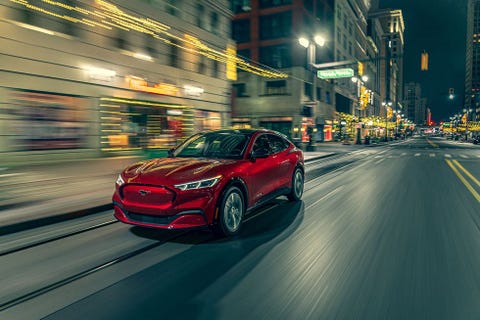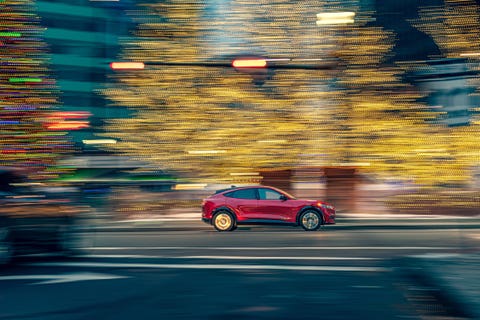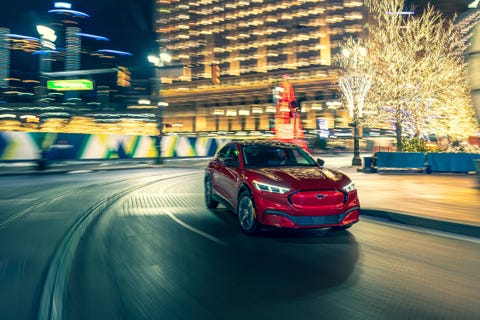 Full Specifications
2021 Ford Mustang Mach-E 4
VEHICLE TYPE
front- and mid-motor, all-wheel-drive, 5-passenger, 4-door wagon
PRICE AS TESTED
$56,200 (base price: $46,695)
MOTORS
2 permanent-magnet synchronous AC; combined output, 346 hp, 428 lb-ft; 88.0-kWh lithium-ion battery pack
TRANSMISSIONS
2 direct-drives
CHASSIS
Brakes (F/R): 14.3-in vented disc/12.4-in disc
Tires: Michelin Primacy A/S, 225/55R-19 103H M+S
DIMENSIONS
Wheelbase: 117.5 in
Length: 185.6 in
Width: 74.1 in
Height: 64.0 in
Passenger volume: 104 ft3
Cargo volume: 35 ft3
Curb weight: 4856 lb
C/D TEST RESULTS
60 mph: 5.1 sec
100 mph: 13.5 sec
Rolling start, 5–60 mph: 5.2 sec
Top gear, 30–50 mph: 2.0 sec
Top gear, 50–70 mph: 2.8 sec
1/4 mile: 13.8 sec @ 101 mph
Top speed (governor limited): 114 mph
Braking, 70–0 mph: 165 ft
Roadholding, 300-ft-dia skidpad: 0.85 g
Standing-start accel times omit 1-ft rollout of 0.3 sec.
C/D FUEL ECONOMY
Observed: 60 MPGe
EPA FUEL ECONOMY
Combined/city/highway: 90/96/84 MPGe
Range: 270 mi