The 2022 Ford Mustang Shelby GT500 is kind of like a rolling theme park. Its monstrous 760-hp supercharged V-8 launches the coupe with eye-watering force, and its immense grip causes sensations of euphoria or nausea or both. All the while its thrilling exhaust note provides the soundtrack, and a rapid-shifting automatic transmission handles gearchanges for the rear-drive-only coupe. The Shelby GT500 isn't just the mightiest Mustang ever, it's also the most powerful road car Ford has ever built.
Despite the ability to soil people's undergarments on demand, it's still a Mustang at heart, meaning it doubles as a daily driver. Opting for the Carbon Fiber Track Pack optimizes the GT500's performance, but it also costs almost a quarter of the Shelby's base price. For some owners, that money will be better spent on fueling this thirsty beast or paying the inevitable influx of speeding tickets.
Engine, Transmission, and Performance
The most powerful engine ever stuffed into a Ford production car lurks behind the Shelby GT500's menacing mug. Aptly called Predator, the motor is a supercharged 5.2-liter V-8 that summons 760 horsepower and 625 pound-feet of torque. That prodigious power twists the rear wheels through a clairvoyant seven-speed dual-clutch automatic transmission (sorry, the mightiest Mustang isn't offered with a manual transmission).
The 2022 Ford Mustang Shelby GT500 has been testedwith its standard summer tires as well as the ultra-sticky rubber offered with the Carbon Fiber Track package, which includes 20-inch carbon-fiber wheels. The latter was part of a comparison test with the 650-hp Chevy Camaro ZL1 1LE and 797-hp Dodge Challenger SRT Hellcat.
While during testing Shelby's base wheel-and-tire setup actually provided better acceleration (hitting 60 mph in 3.4 seconds versus 3.6), the upgraded rolling stock contributed to higher cornering grip (1.13 g versus 0.99) and a shorter stop from 70 mph (142 feet versus 150). Optimized for racetrack duty, the Shelby GT500 proved that modern muscle cars can post quicker lap times than more exotic machines, such as the Porsche 718 Cayman GT4­­ and Lamborghini Huracán Evo, at the most recent running of our annual Lightning Lap event.
Even when the ultimate Mustang isn't blasting down drag strips or terrorizing six-figure sports cars at the track, it makes daily driving extra exciting with its soil-your-shorts acceleration and surprisingly agile handling, considering its two-ton curb weight. Despite its racy demeanor, the GT500's standard adaptive dampers provide a merciful ride quality, too.
Fuel Economy and Real-World MPG
The Shelby 2022 Ford Mustang Shelby GT500 's 760-hp V-8 is the antithesis of fuel efficiency. The government estimates that it'll earn a measly 12 mpg city and 18 mpg highway. That's less than the Camaro ZL1 and Challenger SRT Hellcat; they're EPA-rated at 13/21 mpg city/highway and 13/22 mpg city/highway, respectively. The GT500 did average 20 mpg on our 75-mph highway fuel-economy test, part of our extensive testing regimen. For more information about the Shelby GT500's fuel economy, visit the EPA's website.
Interior, Comfort, and Cargo
The Shelby Mustang's interior is very similar to that of its mainstream counterpart. Although they share a design and have comparable passenger and cargo space, the 2022 Ford Mustang Shelby GT500 offers options such as carbon-fiber instrument panel trim and more-aggressive, Shelby-specific Recaro front buckets along with a roster of desirable standard features.
The latter includes a configurable 12.0-inch fully digital gauge cluster, dual-zone climate control, leather-trimmed front seats with heated and cooled cushions, and a six-way power driver's seat. Shoppers who prefer a more supportive pair of front buckets, albeit without the aforementioned functions, can opt for leather-trimmed Recaros. The Shelby's standard aluminum dashboard trim can also be swapped for a piece made of exposed carbon fiber. Those looking to save extra weight can delete the rear seats, but that requires the extremely expensive Carbon Fiber Track package.
Infotainment and Connectivity
The infotainment system in the Shelby GT500 is very similar to what's found in the regular Mustang: an 8.0-inch touchscreen that supports Ford's Sync 3 software. Along with steering-wheel control and voice commands, the stereo's volume and tuning functions can be controlled with physical knobs. Thanks, Ford. Desirable standard connectivity features include Apple CarPlay, Android Auto, and a subscription-based Wi-Fi hotspot. A 12-speaker B&O sound system is available for drivers who want to complement the supercharged V-8's thundering soundtrack with beats of their own.
Safety and Driver-Assistance Features
Unless you count a powerful braking system and launch control as important driver-assistance technology, the mightiest Mustang offers a very short list of assists. For more information about the Shelby's crash-test results, visit the National Highway Traffic Safety Administration (NHTSA) and Insurance Institute for Highway Safety (IIHS) websites.
Photos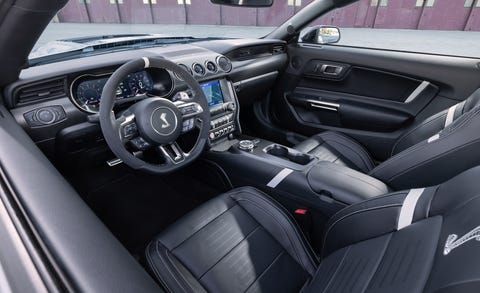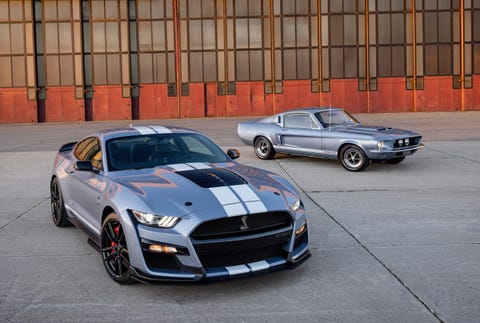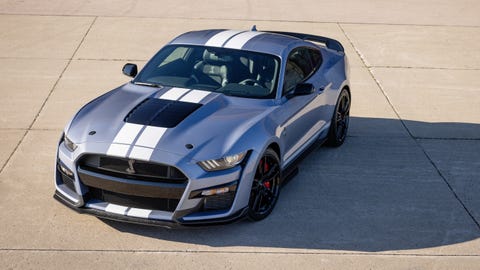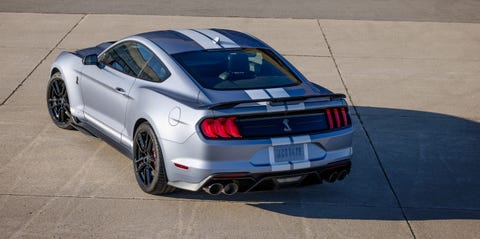 Full Specifications
2020 Ford Mustang Shelby GT500
VEHICLE TYPE
front-engine, rear-wheel-drive, 4-passenger, 2-door coupe
PRICE AS TESTED
$81,565 (base price: $74,095)
ENGINE TYPE
supercharged and intercooled DOHC 32-valve V-8, aluminum block and heads, port fuel injection
Displacement
315 in3, 5163 cm3
Power
760 hp @ 7300 rpm
Torque
625 lb-ft @ 5000 rpm
TRANSMISSION
7-speed dual-clutch automatic
CHASSIS
Suspension (F/R): struts/multilink
Brakes (F/R): 16.5-in vented disc/14.6-in vented disc
Tires: Michelin Pilot Sport 4S, F: 305/30R-20 (103Y) R: 315/30R-20 (104Y)
DIMENSIONS
Wheelbase: 107.1 in
Length: 189.5 in
Width: 76.6 in
Height: 54.3 in
Passenger volume: 85 ft3
Trunk volume: 14 ft3
Curb weight: 4171 lb
C/D TEST RESULTS
60 mph: 3.4 sec
100 mph: 6.9 sec
130 mph: 11.0 sec
150 mph: 15.1 sec
170 mph: 21.7 sec
Rolling start, 5–60 mph: 3.7 sec
Top gear, 30–50 mph: 1.9 sec
Top gear, 50–70 mph: 2.2 sec
1/4 mile: 11.3 sec @ 132 mph
Top speed (mfr's claim): 180 mph
Braking, 70–0 mph: 150 ft
Braking, 100–0 mph: 299 ft
Roadholding, 300-ft-dia skidpad: 0.99 g
Standing-start accel times omit 1-ft rollout of 0.2 sec.
C/D FUEL ECONOMY
Observed: 13 mpg
75-mph highway driving: 20 mpg
Highway range: 320 miles
EPA FUEL ECONOMY
Combined/city/highway: 14/12/18 mpg