Even among other Hyundais, which have mostly all adopted bold styling, the 2022 Hyundai Nexo's look stands out for being different. That's because it is different. Instead of a gasoline engine, or a hybrid powertrain, the Nexo is an electric vehicle fueled by hydrogen, similar to its closest rival, the Toyota Mirai sedan.
Its driving range is impressive at up to 380 miles, but its acceleration is sleepier than most other EVs we've tested. The Nexo's downfall really is its limited market. Because it relies on hydrogen fueling stations, it can only be sold and owned in areas of the country where those are available. As such, Hyundai is currently only offering the Nexo for sale in California
Engine, Transmission, and Performance
The 2022 Hyundai Nexo's 95-kW fuel-cell stack and 40-kWh battery pack power an electric motor rated at 161 horsepower with 291 lb-ft of torque. The motor drives the front wheels through a single-speed gearbox; all-wheel drive is not available. In our testing, the Nexo delivered a zero-to-60-mph result of 8.4 seconds. That's quicker than the Mirai, but a bit slower than the fuel-cell Honda Clarity.
This acceleration figure also puts the hydrogen-fueled Hyundai in step with conventional, gasoline-powered compact crossovers. As with its fuel-cell brethren, the Nexo really isn't thrilling to drive. Still, its electrically assisted steering is appropriately tuned—on the light side but with a steady feel. And in our testing, the Nexo stopped from 70 mph in 169 feet, which is much better than the hydrogen-fueled Clarity or the Mirai.
Range, Charging, and Battery Life
Cruising range varies by trim, and the base Nexo Blue has an estimated range of 380 miles. With its added equipment and 19-inch wheels (versus the Blue's 17s), the heavier Limited has a lower range estimate of 354 miles.
Fuel Economy and Real-World MPG
The EPA's MPGe ratings are also slightly different between the two Nexo trims. The Blue has a combined rating of 61 MPGe (65 city/58 highway), while the Nexo Limited is rated at 57 MPGe (59 city/54 highway). Once you find a hydrogen station, refueling takes about five minutes. Anyone who buys or leases a Nexo receives complimentary hydrogen fuel for the first three years or $13,000 worth of fuel (whichever comes first). For more information about Nexo's fuel economy, visit the EPA's website.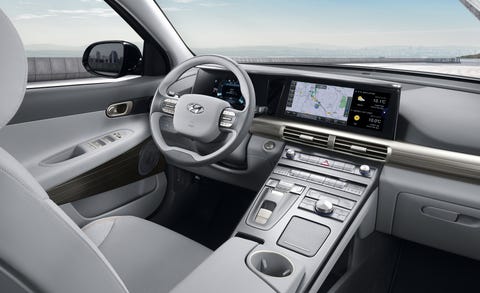 Interior, Comfort, and Cargo
Interior space in the five-passenger 2022 Hyundai Nexo is on par with other small crossovers. Adults will fit comfortably up front or in the back seat. There's a useful 30 cubic feet of cargo space behind the back seat, and folding the rear seats flat nets 57 cubic feet, which is close to what the Hyundai Tucson offers. Otherwise, the Nexo's cabin bears little resemblance to the rest of the Hyundai lineup with its two-spoke steering wheel, digital instrument panel, and push-button transmission controls. The front seats offer only basic power adjustments but are upholstered in vinyl. Overall, it's a pleasant, airy place to be, especially with the larger sunroof of the Limited.
Infotainment and Connectivity
A 12.3-inch touchscreen infotainment interface is standard in the Nexo, and it includes both Apple CarPlay and Android Auto integration. Additional connected features are available with Hyundai's Blue Link app, which offers remote engine starting (with seat preheating or pre-cooling) and a hydrogen-fuel station locator. Blue Link is complimentary for the first three years. There are two USB charge ports (though only one supports data transfer) and a wireless smartphone-charging pad.
Safety and Driver-Assistance Features
A suite of driver-assistance features is standard on every Nexo and includes a forward-collision avoidance system with pedestrian detection, blind-spot monitoring, rear cross-traffic alert, lane-keeping assist, and adaptive cruise control. The Limited adds the blind-spot camera display in the instrument panel. For more information about the Nexo's crash-test results, visit the National Highway Traffic Safety Administration (NHTSA) and the Insurance Institute for Highway Safety (IIHS) websites.