Toyota is poised to re-enter the electric vehicle segment with the 2022 Toyota bZ4X, which boasts edgy styling that sets it apart from Toyota's gasoline-powered SUVs. Unlike the last all-electric vehicle the company offered—the RAV4 EV—the 2022 Toyota bZ4X will be sold at Toyota dealerships nationwide. Although only the bZ4X has been announced so far, Toyota has recorded several trademark filings using other bZ names, which leads us to believe the company is planning a family of electric vehicles using the moniker. The production version of the bZ4X is expected to hit Toyota showrooms in mid-2022.
When it does it will join a growing group of non-luxury EV SUVs which includes the Chevrolet Bolt EUV, the Ford Mustang Mach E, the Hyundai Kona Electric, the Kia Niro EV, the Tesla Model Y, and the Volkswagen ID.4.
Engine, Transmission, and Performance
A front-wheel-drive, single electric motor setup will be standard and offer 201 horsepower but an all-wheel-drive version with two motors is available and boosts total power to 215 horsepower. According to Toyota, the all-wheel-drive model is capable of a zero-to-62-mph time of 7.7 seconds.
That's not exactly Tesla territory but it puts the 2022 Toyota bZ4X in contention with the front-wheel-drive variant of the Volkswagen ID.4. When we get a chance to test drive the bZ4X, we'll update this story with driving impressions and test results.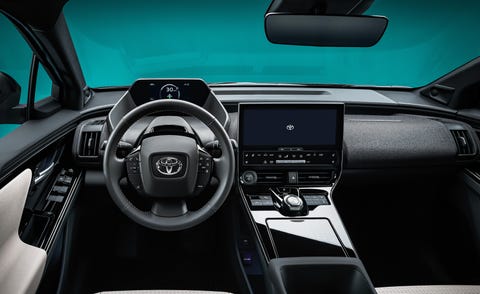 Range, Charging, and Battery Life
The 2022 Toyota bZ4X will come with a 64.0-kWh battery pack which should deliver around 230 miles of driving range per charge in the front-wheel-drive model. Going with the more powerful, dual-motor all-wheel-drive variant should drop the total range to about 200 miles per charge. Fast charging will be standard and Toyota says that solar panels integrated into the bZ4X will capture enough energy for about 1000 miles of driving range per year.
Interior, Comfort, and Cargo
From photos, we can tell that the 2022 Toyota bZ4X  will offer a more futuristic dashboard design than other Toyota models, with a digital gauge display, a large infotainment touchscreen, and a wide center console between the two front seats.
The cabin looks spacious and similar in size to the RAV4, but we won't know how accommodating it is until we get a chance to take a test drive. We also now know that the bZ4X will eschew tradition by offering a yoke-type steering wheel rather than a round one, similar to the new primary steering controller found in the Tesla Model S.