The 2023 BMW IX M60 can sprint from zero to 60 mph in 3.6 seconds and will offer extra passenger comfort thanks to air suspension and electronically controlled shock absorbers.
We dig the 2023 BMW IX, BMW's first all-electric SUV. Beneath the cheese grater front bumper and hideous nostril panels lies a quiet and comfortable crossover worthy of its nearly $85,000 price tag.
We think the standard iX's 4.6-second dash to 60 mph is perfectly adequate for most people, but even the slowest Tesla Model X is about a second quicker.
Not wanting its owners to be dusted off the line by California's native dork mobile, BMW is introducing a high-performance version for next year's iX. Here's everything we know about the 2023 BMW iX M60, and how it stacks up against Tesla's range-topping SUV, the Model X.
So the 2023 BMW IX M60 can finally run toe to toe with an everyday Model X, even though the Plaid is probably outside its reach. But that doesn't mean we think you should put in a reservation for the Model X just yet.
There are a few things working in BMW's favor. The most obvious — and we really can't believe we have to note this — is the presence of a traditional steering wheel. The Model X's wheel lacks a top portion, so you essentially guide the vehicle with an airplane-style yoke.
We found the operation of this yoke one of the worst aspects of the Tesla Model S sedan in real-world driving scenarios. We're also not big fans of the Model X's gullwing-style rear doors, which are more gimmicky than useful.
Or its unintuitive technology interface, or its underwhelming interior design and materials, or the lack of Android Auto or Apple CarPlay connectivity, or — you get the idea.
Engine, Transmission, and Performance
Two different variants of the 2023 BMW IX are on offer, the first being the xDrive50, which is powered by a pair of electric motors that combine to make 516 hp; all-wheel drive is standard. By our estimates, that's enough power to scoot the iX to 60 mph in 4.4 seconds.
The high-performance variant, called M60, offers a whopping 610 hp and BMW says that's enough to rocket the mid-size SUV to 60 mph in just 3.6 seconds. An adjustable air suspension and a rear-wheel-steering system are both optional on the entry-level xDrive 50 and standard on the M60.
During our initial test drive of an xDrive50 model, we noted plentiful power, surprising energy efficiency, agile handling, and a smooth ride. When we get a chance to drive the 2023 BMW IX at our test track, we'll update this story with test results.
Fuel Economy and Real-World MPG
The EPA has not released fuel economy estimates for the 2023 BMW IX yet, nor has it confirmed BMW's claimed 300-mile driving range. When we get a chance to test the iX on our 75-mph highway fuel-economy test route, we'll update this story with range and MPGe results. For more information about the iX's fuel economy, visit the EPA's website.
Interior, Comfort, and Cargo
The Bimmer SUV is about the same size as the company's mid-size X5 and X6 crossovers, and its passenger and cargo space is similar to those models as well.
The iX's interior design is both simple and modern with a host of high-tech elements including a large curved touchscreen instrument panel and a hexagonal-shaped steering wheel. BMW offers a large panoramic sunroof featuring electrochromic shading as an option—a trick feature found on only a few vehicles.
Power front seats are also heated and feature integrated speakers for the iX's stereo system. Both faux leather and genuine leather upholsteries are offered, but BMW also offers a textile seat fabric option—dubbed Loft—which uses microfiber cloth.
Infotainment and Connectivity
BMW is using the iX SUV and the i4 sedan as the launchpad for its next-generation infotainment interface, which it calls iDrive 8. The software allows for customization of menus and graphics, as well as a voice-activated assistant.
A large 14.9-inch infotainment display combines with a 12.3-inch digital gauge cluster to create the iX's tech-forward dashboard design.
Apple CarPlay and Android Auto are standard across the board, and BMW also offers a Wi-Fi hotspot with a 5G cellular connection. An 18-speaker Harman/Kardon stereo system is standard; a 30-speaker Bowers & Wilkins setup is an option.
Safety and Driver-Assistance Features
BMW offers a comprehensive set of standard driver-assistance features in the 2023 BMW IX, including parking sensors, autonomous emergency braking, automatic high-beam headlamps, and lane-keeping assist systems.
For more information about the 2023 BMW IX's crash-test results, visit the National Highway Traffic Safety Administration (NHTSA) and Insurance Institute for Highway Safety (IIHS) websites.
Photos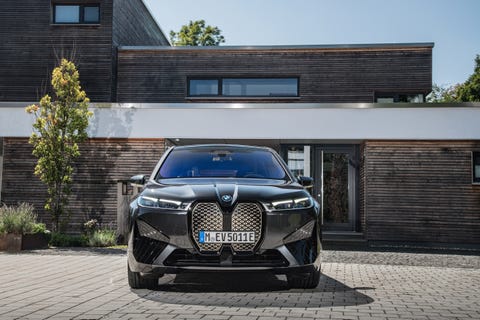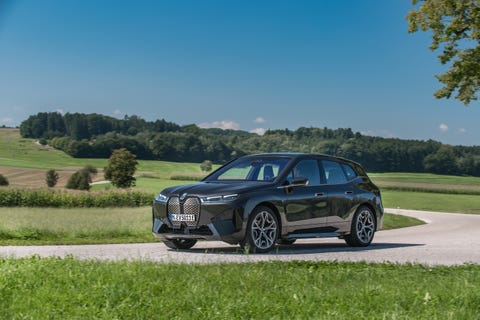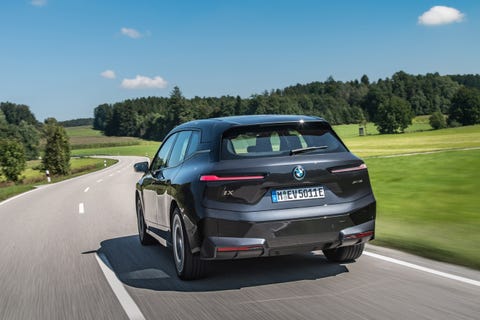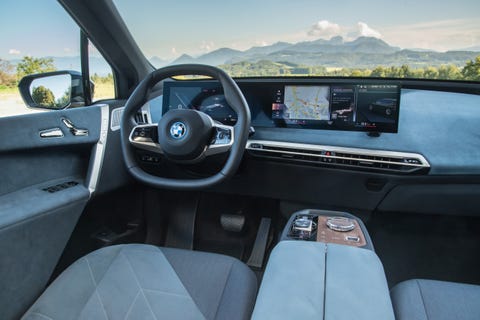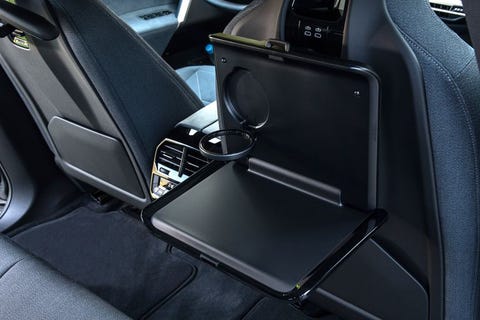 Full Specifications
2022 BMW iX xDrive50
Vehicle Type: front- and rear-motor, all-wheel-drive, 5-passenger, 4-door wagon
PRICE
Base: $84,195
POWERTRAIN
Motors: 2 synchronous AC, 255 and 308 hp, 269 and 295 lb-ft
Combined Power: 516 hp
Combined Torque: 564 lb-ft
Battery Pack: liquid-cooled lithium-ion, 105.2 kWh
Onboard Charger: 11.0 kW
Transmissions: direct-drive
DIMENSIONS
Wheelbase: 118.1 in
Length: 195.0 in
Width: 77.4 in
Height: 66.8 in
Curb Weight: 5700 lb
PERFORMANCE (C/D EST)
60 mph: 4.4 sec
100 mph: 11.0 sec
1/4-Mile: 12.6 sec
Top Speed: 124 mph
EPA FUEL ECONOMY (C/D EST)
Combined/City/Highway: 89/90/88 MPGe
Range: 310 mi