AIDAstella voyages around the world with AIDA Cruises, measuring 252 meters in length and 32 meters in width. One ship in this class was delivered every year between 2010 and 2013. AIDAstella's sister ships are called AIDAmar, AIDAsol, and AIDAblu – they belong to the modified Sphinx Class. Half a deck was added to the modified liners to make their spa area more spacious than on the original Sphinx Class.
The designers at MEYER WERFT placed great emphasis on ensuring maximum comfort and energy efficiency: Fuel consumption is reduced with the addition of flow-optimized propellers and a low-friction underwater coating. Its rudder blades are asymmetrically twisted to give the ship additional propulsion. Intelligent technology helps to save water, and new energy is obtained from the waste heat generated during onboard operations.
A glass chute extends along the middle of AIDAstella, housing a magnificent venue known as the "Theatrum". Its side walls are made of safety glass to withstand heavy loads during voyages. The venue is spread across the entire length of the ship – it's the heart and soul of onboard life.
AIDAstella sailed on its maiden voyage through northern Europe (Warnemuende to inter alia Denmark, Norway, England, and France) in March 2013.
AIDAstella cruise ship deck plan shows a total of 1097 cabins for 2194 passengers (max occupancy is 2700) served by 610 crew-staff. The boat has 14 decks (12 passenger-accessible, 7 with cabins), 7 restaurants, 12 bars and lounges, 2 swimming pools, 4 Jacuzzis (outdoor whirlpool hot tubs), 10 elevators.
Main deck areas include:
dining facilities (43000 ft2 / 3988 m2)
wellness area (27990 ft2 / 2600 m2) – one of the largest at sea
outside deck spaces (87000 ft2 / 8120 m2)
Theatrium / Theater (32000 ft2 / 3000 m2).
PHOTOS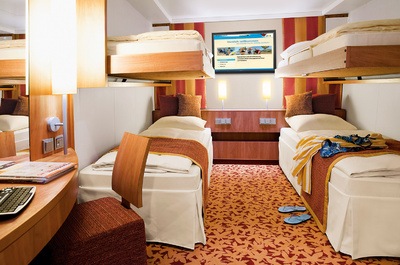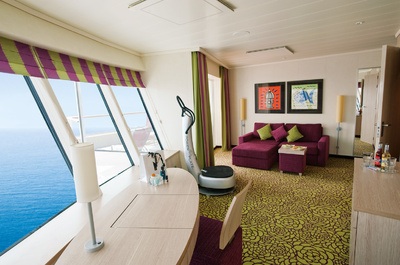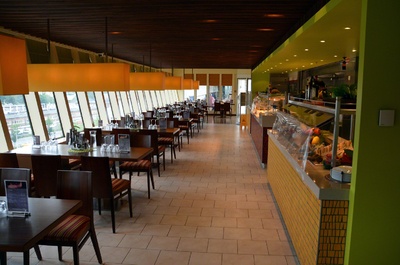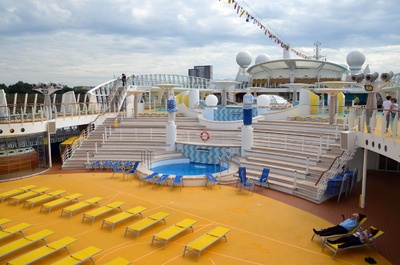 FULL SPECIFICATIONS
Name
AIDAstella
Owner
Costa Crociere S.p.A.[1]
Operator
AIDA Cruises
Port of registry
Genoa,  Italy
Builder
Meyer Werft
Yard number
695[1]
Laid down
17 December 2008[1]
Launched
25 January 2013[1]
Christened
16 March 2013 in Warnemünde by 10 ladies[2]
Completed
11 March 2013[1]
Maiden voyage
17 March 2013
In service
17 March 2013
Identification
Status
In service
General characteristics
Class and type
Sphinx-class cruise ship (modified)
Tonnage
Length
253.26 m (830.91 ft)
Beam
32.2 m (105.64 ft)
Draught
7.3 m (23.95 ft)
Decks
14
Installed power
36,000

 

kW (combined)[3]
Propulsion
Diesel-electric; two shafts 

(2 × 12,500 kW)

Speed
21 knots (39 km/h; 24 mph)
Capacity
2,700
Crew
620