MSC Opera is a cruise ship built in 2004, carrying 2,679 passengers in 1,071 cabins, and with a crew complement of approximately 728, currently operated by Swiss company MSC Cruises. She served as the flagship of the company until MSC Musica entered service in 2006.
This ship is named after the quintessential Italian art form, Opera. And the MSC Opera is a work of art in her own right. The ship is filled with stunning spaces that inspire fun and excitement in the lounges and disco. Spaces like the spa convey an understated elegance with the use of natural stones and tiles.
The restaurants like La Caravella Restaurant and L'Approdo Restaurant have a formal atmosphere where the food is the real centerpiece. It's amazing how the MSC Opera's design elements complement the entire feel of your cruise from the fun you have at the casino to the rejuvenation you get at the Aurea Spa.
Each of the MSC Opera cruise ship deck plans is conveniently combined with a legend (showing cabin codes) and a detailed review of all the deck's venues and passenger-accessible indoor and outdoor areas. A separate link provides extensive information on MSC Opera staterooms (cabins and suites), including photos, cabin plans, and amenities by room type and category.
MSC Opera cruise ship deck plan shows a total of 1071 staterooms for 2142 passengers (max capacity is 2570) served by 730 crew-staff. The boat has 13 decks (9 passenger-accessible, 5 with cabins), 4 restaurants, 10 lounges/bars, 2 swimming pools, 2 Jacuzzis (outdoor whirlpool hot tubs), 9 elevators.
PHOTOS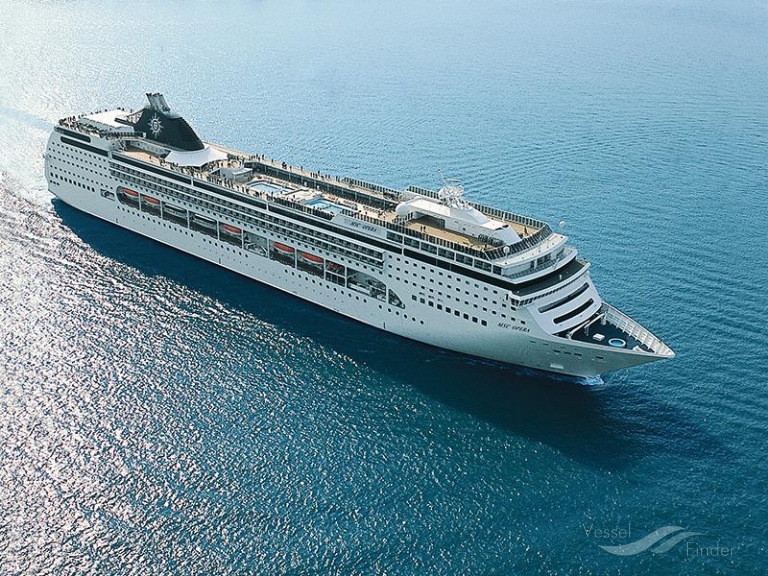 FULL SPECIFICATIONS
Name
MSC Opera
Owner
MSC Cruises
Operator
MSC Cruises
Port of registry
Panama City,  Panama
Builder
Chantiers de l'Atlantique, St. Nazaire, France
Launched
11 September 2003
Christened
June 26, 2004 by Sophia Loren in Genoa[1]
Maiden voyage
June 27, 2004[1]
Identification
Status
In service
General characteristics
Class and type
Lirica class cruise ship
Tonnage
Length

251.25 m (824.3 ft)
274.9 m (902 ft) (after renovation)

Beam

28.8 m (94 ft)
32 m (105 ft) (after renovation)

Height
54 m (177 ft)
Draught
6.8 m (22 ft 4 in)
Depth
6.6 m (22 ft)
Decks

9 (passengers accessible)
13 (total)

Propulsion

4 × Wärtsilä 12V38A
30,600 kW (combined)

Speed
21.1 knots (39.1 km/h; 24.3 mph)
Capacity

2,150 (double occupancy)
2,679 passengers (maximum after renovation)

Crew
728