The 2022 BMW 8-series coupe and convertible are positioned as the most extravagant two-door models in the company's portfolio. With aggressive proportions and sinewy sheet metal, both body styles have a notable curbside presence, even if neither is as fancy as, say, the Lexus LC. Still, BMW endows each with a beautiful interior that is exquisitely appointed and impeccably built.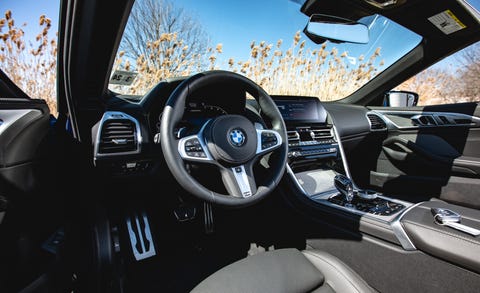 Engine, Transmission, and Performance
BMW's biggest coupe and convertible start off with a 335-hp turbocharged inline-six-cylinder. These 840i models pair with an eight-speed automatic transmission and either rear- or all-wheel drive (called xDrive in BMW's parlance). While we haven't driven an 8 with the six-cylinder, BMW has built a reputation on silky smooth and responsive powertrains, so only speed freaks will likely be disappointed. Instead, we've driven both body styles of the M850i that feature a 523-hp twin-turbo V-8, eight-speed automatic, and standard all-wheel drive.
This combination delivers impressive acceleration for the Bimmer's size and provides a rich soundtrack in the sportiest setting. Likewise, the transmission transitions from relaxed to reactive based on the driver's right foot. Most importantly, the 8-series delivers on its grand-touring promises, with a supremely quiet ride and surprising athleticism. Its steering feedback is direct and linear but filters out road imperfections and front-tire feedback.
Although its adaptive dampers allow extra flexibility depending on the selected drive mode, they make the 8 remarkably stable during cornering in their stiffest setting. The car's powerful brake system and firm pedal feel further enhance the feeling of absolute confidence.
Fuel Economy and Real-World MPG
The more powerful M850i, which includes a twin-turbo V-8 and standard all-wheel drive, means a significant reduction in EPA fuel-economy ratings versus the turbo six-cylinder that powers 840i models. The M850i is rated up to 17 mpg city and 25 highway, whereas the less powerful 840i has estimates of up to 23 mpg city and 30 highway. We tested the M850i coupe and convertible on our 75-mph fuel-economy route where they achieved 29 and 26 mpg, respectively. While both body styles exceeded their EPA ratings, the coupe did so by 4 mpg whereas the soft top only managed 1 mpg more. For more information about the 8-series' fuel economy, visit the EPA's website.
Interior, Comfort, and Cargo
The 2022 8-series interior offers all the infotainment gadgetry and luxury features expected in a high-priced grand tourer. Every model has 14-way power-adjustable heated front seats, soft-close automatic doors, and customizable ambient lighting; more extravagant upgrades include glass control and additional high-end materials.
It can even be outfitted with unique BMW Individual options, such as a fancy white-and-brown color scheme. Although it does offer a pair of vestigial rear seats, they're not pleasant places for adults to spend time. The 8's low roofline also impedes headroom in the front seat and outward visibility isn't great, but that's the price of fashion.
Its interior cubby storage consists of a coverable tray at the front of the center console, a useful central bin, and adequate door pockets. We also managed to fit five carry-on bags in the coupe's trunk and another six with the back seats stowed, but the convertible held one bagless in each scenario.