The 2022 Ford E-Transit is a full-size van available in cargo, crew and passenger configurations. As its name suggests, the 2022 Ford E-Transit is an electrified version of that same van. Buyers can select from three roof heights and three body lengths to tailor the E-Transit to their needs. No matter which combination you choose, the E-Transit will have similar interior capacities and mounting points when compared to a comparably specced Transit.
Ford's new electric van looks promising on paper, but the E-Transit's size and battery capacity might limit widespread commercial adoption. It's powered by a 67-kWh battery, which only provides an estimated 126 miles of range in the low-roof variant. Mid- and high-roof versions will likely have shorter range since they create more aerodynamic drag. Even the low-roof's range isn't nearly enough for the E-Transit to serve as a long-distance cargo carrier, but as a city roundabout or delivery vehicle, it should be enough.
Engine, Transmission, and Performance
A single electric motor pumps out 266-hp and 317 lb-ft of torque; the 2022 Ford Transit employs a rear-wheel-drive setup; all-wheel drive is not available. Ford hasn't released any zero-to-60-mph time estimates but we expect the E-Transit to offer perky acceleration, at least when unladen. The company does say that the E-Transit's suspension system has been revised from the gasoline-powered Transit's to improve handling. When we get a chance to test drive the E-Transit we'll report our driving impressions here.
Towing and Payload Capacity
A towing capacity for the 2022 Ford E-Transit is unknown for now, but Ford says maximum payload for the cargo van should be close to 3800 pounds. Special cutaway models—also known as chassis-cabs, which are converted by fleets into box trucks, ambulances, and moving vans—could offer payload ratings as high as 4290 pounds.
Range, Charging, and Battery Life
The 2022 Ford E-Transit 's battery pack is a 67.0-kWh unit that's good for up to 126 miles of driving per charge, Ford says. The pack can be recharged using either AC power outlets or via a DC fast charging station. Ford will provide a mobile charger that can be used to charge the E-Transit at home and will also offer a more powerful charging station that can be installed in a buyer's garage. Otherwise, drivers can re-juice at public charging stations.
Fuel Economy and Real-World MPG
The EPA hasn't released any estimates for the 2022 Ford E-Transit 's fuel economy. When we get the chance to test the E-Transit for ourselves, we'll subject it to our 75-mph highway fuel economy test and update this story with MPGe and driving-range results. For more information about the E-Transit's fuel economy, visit the EPA's website.
Interior, Comfort, and Cargo
While it is distinctly utilitarian on the inside, the current Ford Transit is one of the most impressive vans on the market. The well-built cabin and sturdy trim pieces make the driving compartment feel robust and purposeful. Since the E-Transit is simply an electric-powered version of the standard van, we expect the same solid interior quality.
While the Mercedes-Benz Sprinter has a few features that make it feel more luxurious, the Transit doesn't feel stripped-down or underequipped in any way.From photos we can see a rotary shift knob versus the lever that's offered in the regular Transit. Cargo space will be plentiful no matter which body style is chosen, but the extended-wheelbase model with the high roof is said to offer more than 487 cubic feet of cargo room.
Infotainment and Connectivity
All models of the E-Transit will come standard with a 12.0-inch infotainment system which dwarfs the 4.0-inch display in the regular Transit. It's even larger and more sophisticated than the regular Transit's optional 8.0-inch display as it runs Ford's latest Sync 4 operating system. An on-board 4G LTE modem provides a Wi-Fi hotspot and also connectivity features for fleet managers, including vehicle telematics. The infotainment system is capable of receiving over-the-air updates. Ford hasn't said for sure, but we expect both Apple CarPlay and Android Auto to be standard features.
Safety and Driver-Assistance Features
Ford says the E-Transit will come standard with a suite of driver-assistance features called Co-Pilot360 with more advanced driver aids available as options. For more information about the E-Transit's crash-test results, visit the National Highway Traffic Safety Administration (NHTSA) and Insurance Institute for Highway Safety (IIHS) websites.
Photos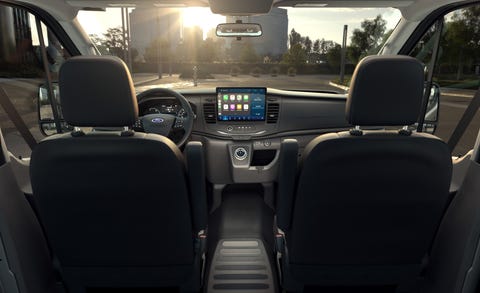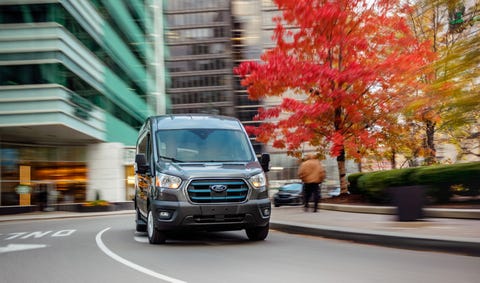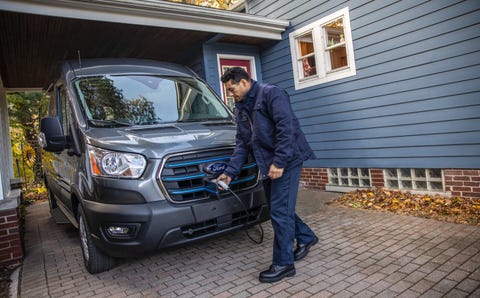 Full Specifications will be added as soon as ww have them available.