The Beechjet 400A is a small twin-engine jet corporate aircraft. Initially designed and built by Mitsubishi, it has been further developed and updated by the Beech Aircraft Company, now part of Hawker Beechcraft. Production of this model began in 1978 with a total of over 700 civil models built before production ceased in 2009.
The aircraft first flew on 29 August 1978. It is a small, low-winged twin-turbofan aircraft of all-metal construction, flown by a crew of two pilots and accommodating eight passengers in a pressurized cabin. Beechcraft bought the production rights and began manufacturing it as their own model, initially re-designated as the Beechjet 400.
The Beechjet 400A was certificated by the Federal Aviation Administration in May 1986.Raytheon/Beechcraft steadily developed their own improvements to the model, leading to the Beechjet 400A in 1990. Improvements in the 400A include longer range, higher take-off weights and improved luxury appointments. An all-glass flight deck was also offered.
Photos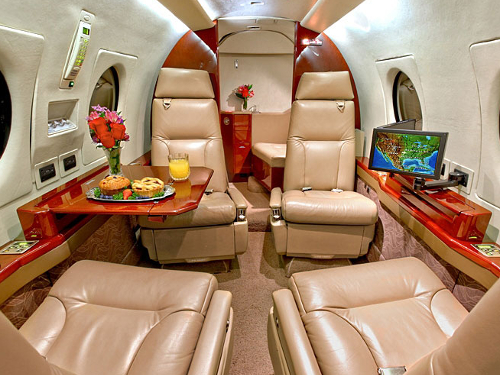 Full Specifications
Exterior
Exterior Height: 13 ft 11 in
Wing Span: 43 ft 6 in
Length: 48 ft 5 in
External Baggage: 25 cu ft
Interior
Cabin Height: 4 ft 10 In
Cabin Width: 4 ft 11 In
Cabin Length: 15 ft 7 In
Cabin Volume: 305 cu ft
Door Height: 4 ft 2 In
Door Width: 2 ft 5 In
Internal Baggage: 31 cu ft
Operating Weights
Max T/O Weight: 16100 Lb
Max Landing Weight: 15700 Lb
Operating Weight: 10915 Lb
Empty Weight: 10050 Lb
Fuel Capacity: 4912 lbs Lb
Payload W/Full Fuel: 473 Lb
Max Payload: 2085 Lb
Range
Normal Range: 1180 nm
Max Range: 1519 nm
Service Ceiling: 45000 ft
Distances
Balanced Field Length: 4600 ft
Landing Distance: 5083 ft
Performance
Rate of Climb: 3770 fpm
Climb Rate One Engine Inop: 560 fpm
Max Speed: 458 kts
Normal Cruise: 449 kts
Economy Cruise: 410 kts
Power Plant
Engines: 2
Engine Mfg: Pratt & Whitney Canada
Engine Model: JT15D-5