In 2012, Bombardier announced the development of a new light business jet. The Learjet 70 received FAA Certification by 2013 and flew its first flight in 2014. The is an enhanced version of the Learjet 40, offering notable upgrades to its predecessor. Learjets have always been synonymous with best-in-class business jets, so it is no surprise the Learjet 70 continues to fulfill that legacy.
The Learjet 70's performance capabilities are quite impressive. With a range of 2371 statute miles and the capability to reach speeds of 534 mph, this jet can travel to more destinations without a fuel stop. Another impressive feature of this aircraft is its ability to quickly reach high altitudes above the weather, offering a smoother flying experience for passengers.
With precise landing gear, this jet can comfortably handle shorter runways with ease. Powerful engines and a new winglet design are just a few examples of advancements that make the Learjet 70 a great choice for charter.
The cabin of the Learjet 70 measures 17′ 8″ in length, 4′ 11″ in height, and 5′ 1″ in width. This aircraft comfortably seats 6-7 passengers, has stunning interior details, and offers all of the technology needed to conduct business in the sky.  The wider cabin makes for a more relaxing flight with ample legroom to stretch out and relax. Executive tables and pop-up monitors in the forward club section offer passengers a comfortable work environment.
In addition, the Learjet 70 has a redesigned galley with more work and storage space for meal service. There is also an aft lavatory on board with a sink and vanity mirror. The Learjet 70 has an external baggage compartment that provides 50 cubic feet of baggage space and another 15 cubic feet of internal storage. The Learjet 70 truly embodies the next generation of light business jets.
Photos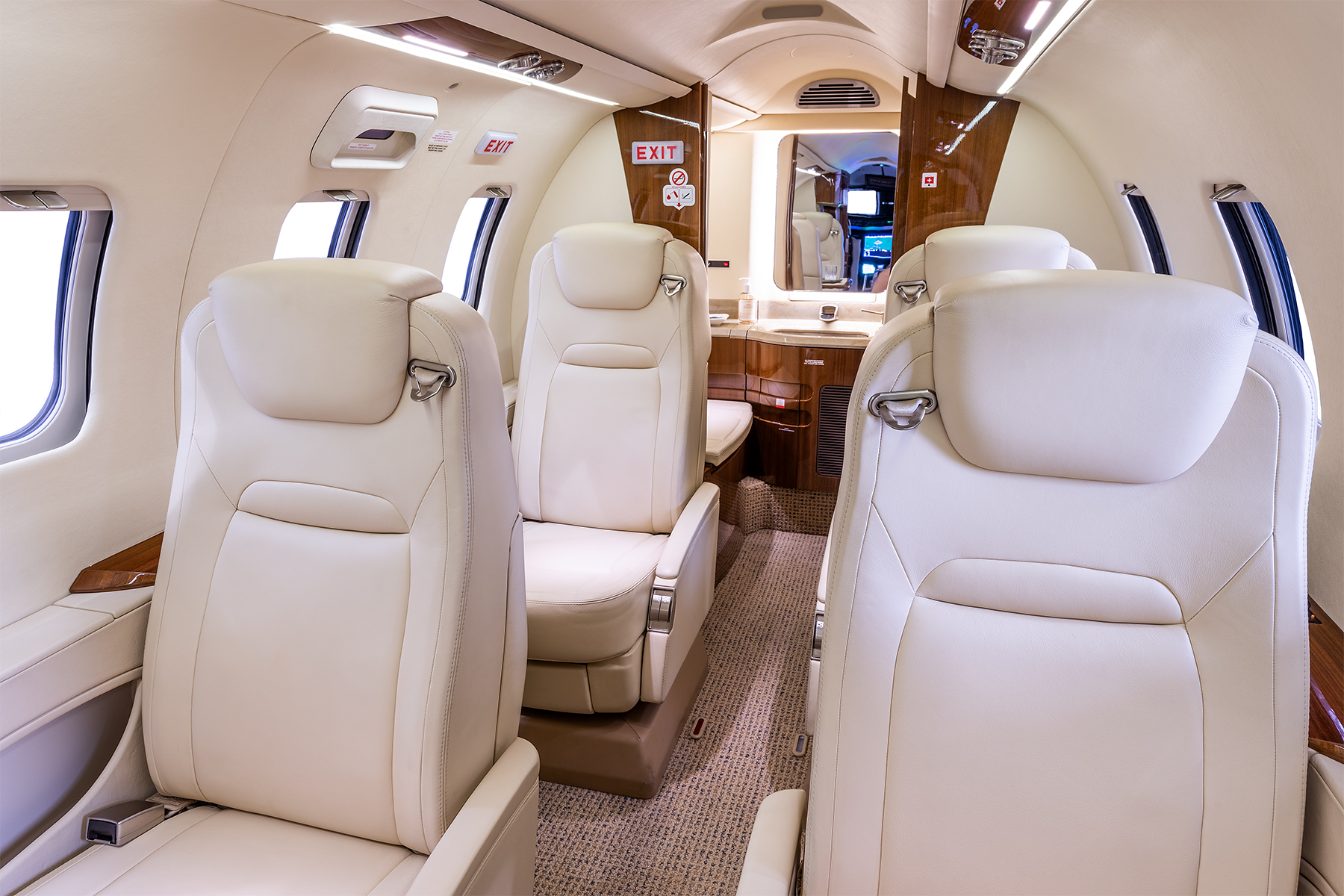 Full Specification
Exterior
Exterior Height: 14 ft 0 in
Wing Span: 50 ft 11 in
Length: 56 ft 0 in
Interior
Cabin Height: 4 ft 11 In
Cabin Width: 5 ft 1 In
Cabin Length: 17 ft 8 In
Cabin Volume: 363 cu ft
Internal Baggage: 65 cu ft
Operating Weights
Max T/O Weight: 21500 Lb
Max Landing Weight: 19200 Lb
Operating Weight: 13715 Lb
Fuel Capacity: 6062 lbs Lb
Payload W/Full Fuel: 1973 Lb
Max Payload: 2285 Lb
Range
Normal Range: 1873 nm
Max Range: 2060 nm
Service Ceiling: 51000 ft
Distances
Takeoff Distance: 4440 ft
Balanced Field Length: 4230 ft
Landing Distance: 2660 ft
Performance
Max Speed: 464 kts
Normal Cruise: 424 kts
Economy Cruise: 432 kts
Avionics: Garmin G5000 with high resolution displays
2019 List Price: $11,300,000
Power Plant
Engines: 2
Engine Mfg: Honeywell
Engine Model: TFE731-40BR