Liberty of the Seas is a Royal Caribbean International Freedom-class cruise ship that entered regular service in May 2007. She was built in 18 months at the Aker Finnyards Turku Shipyard, Finland, where her sister ship, Freedom of the Seas, was also built.
Initially built at 154,407 gross tonnages (GT), she joined her sister ship, Freedom of the Seas, as the largest cruise ship and passenger vessel then ever built. She is 1,111.9 ft (338.91 m) long, 184 ft (56.08 m) wide, and cruises at 21.6 knots (40 km/h).The 15-deck ship accommodates 3,634 passengers served by 1,360 crew.
Liberty of the Seas is the second of the Freedom-class vessels. A third ship, Independence of the Seas, was delivered in April 2008. In 2009, the first in a new Oasis class of ships measuring 220,000 gross tons displaced the Freedom class as the world's largest passenger ship.
Despite being 10 years old, Liberty of the Seas feels new and contemporary throughout most of the public areas (though the rooms are a bit worn).
Cruisers on Liberty of the Seas can dine in style in a rich mahogany three-story dining room, each level named in honor of an Italian Renaissance painter, with sparkling chandeliers and romantic sunset views. And there are optional specialty restaurants, as well, making for an easy date night.
And when it comes to outdoor fun, Liberty of the Seas got it all with three distinct pool spaces plus an area for thrill-seekers who can't help but scream on the gut-grinding water attraction, Tidal Wave.
There are no two ways about it, though this is a large ship that regularly hauls 4,000 passengers, and it can sometimes feel crowded, particularly when you're waiting for an elevator or trying to angle for a slice of pizza in the Windjammer buffet.
But while some areas of the ship feel cramped, others do not and once you get a feel for the flow of traffic and part ways with your at-home stress levels, you'll find the quieter, less-traveled areas — if that's what you want.
Photos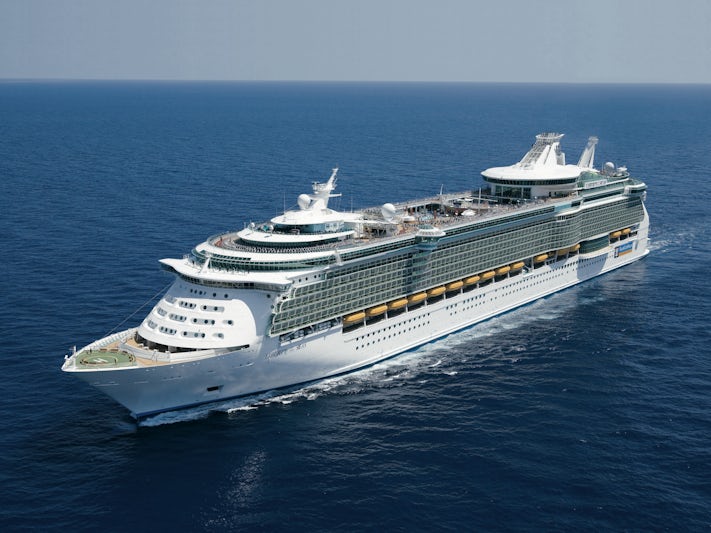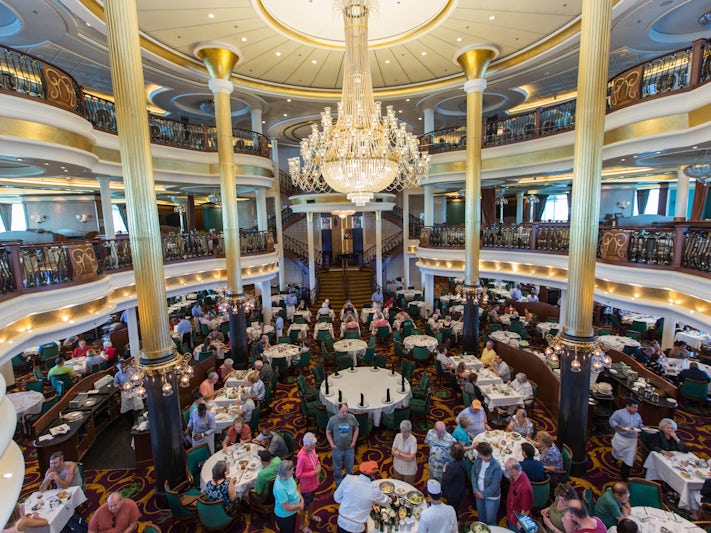 Full Specifications
Name
Liberty of the Seas
Owner
Royal Caribbean Cruises Ltd.
Operator
Royal Caribbean International
Port of registry
Nassau,  Bahamas
Route
Caribbean Homeport: Galveston, Texas
Builder
Aker Yards Turku Shipyard, Finland
Cost
US$800 million
Christened
May 18, 2007 by Donnalea Madeley[1]
Maiden voyage
May 19, 2007[1]
In service
May 18, 2007
Identification
Status
Service suspended
General characteristics
Class and type
Freedom-class cruise ship
Tonnage
155,889 GT[2]
Length
1,111.94 ft (338.92 m)[2]
Beam
Draught
29.61 ft (9.026 m)[2]
Decks
18 total decks, 15 passenger decks
Installed power
Propulsion
Speed
21.6 knots (40.0 km/h; 24.9 mph)
Capacity
Crew
1,300 (average)