Mardi Gras is the first of two "XL-Class" ships under construction for Carnival, with a second vessel to arrive in 2022. It will be the cruise line's first ship to run on liquefied natural gas (LNG), a form of fuel that reduces toxic emissions. At 185,000 GT and carrying 5200 guests, this sparkling new family ship will be the largest in Carnival's FunShip fleet.
The name of the ship recalls Carnival Cruise Line's first-ever ship, which retired in 1993. Mardi Gras will feature six themed zones that combine eateries with entertainment: Three-storey Grand Central entertainment complex; a New Orleans style French Quarter; Summer Landing based on Guy's Pig & Anchor Smokehouse Brewhouse; Italy-inspired La Piazza; Lido; and the Ultimate Playground on the top three decks, that includes 60m above the ocean the first rollercoaster at sea.
There are three principal dining rooms with a choice of fixed-time dining at two seating times, or flexible "Your Time Dining". Dining assignments can be booked before the cruise. Menus change daily and service is excellent. Breakfast and lunch are open seating at a variety of locations and include a late morning Brunch.
Kids have their own menu. Lido Marketplace is the expansive two-level poolside eatery, offering casual alternatives for breakfast, lunch, and dinner. Adjacent is Guy's Burger Joint and Blue Iguana Cantina (Mexican). Also on the pool deck is a pizza station, a deli, and Ji Ji Asian Kitchen. There are eight alternative restaurants (by reservation, with a cover charge) serving steak, seafood, Asian, and Italian cuisine.
The Chef's Table, reserved for 16, is a special dining experience that includes a galley tour. Many casual restaurants provide choices of fast food, BBQ, Mexican, and pasta. The ship offers 24-hour room service, ranging from basic continental-style breakfast fare to a variety of sandwiches and desserts.
Carnival Mardi Gras cruise ship deck plan shows a total of 2641 staterooms for 5282 passengers (max capacity is 6338 guests), served by 1745 crew/staff. The boat has 18 passenger decks (11 with cabins), 7 lounges, 11 bars, 12 restaurants and food bars, 5 swimming pools, 5 outdoor Jacuzzis (no cantilevered), and 22 elevators.
Carnival Mardi Gras decks with passenger cabins have a total of 175 Suites, 1467 Balconies, 222 Oceanviews, 777 Inside cabins, Self Service Laundromats (passenger use launderettes). Laundry facilities are at an extra charge – $3,25 (per washer or dryer load) and $1,5 per box (detergent/water softener, dispensed from the vending machine in the room).
Launderettes (open between 6:30 am – 12-midnight) are located on all cabin decks. Each laundry room is equipped with 2-3 washers, 2-3 dryers, and 1 ironing board/iron. All laundry machines are coinless (can be operated using S&S cards only). While the ship is docked in port, washing machines are closed (only dryers and irons can be used). Valet laundry service is handled through the cabin steward. Prices are per item – wash-and-press ($2 – $7,50) and dry-cleaning ($3 – $10,50).
PHOTOS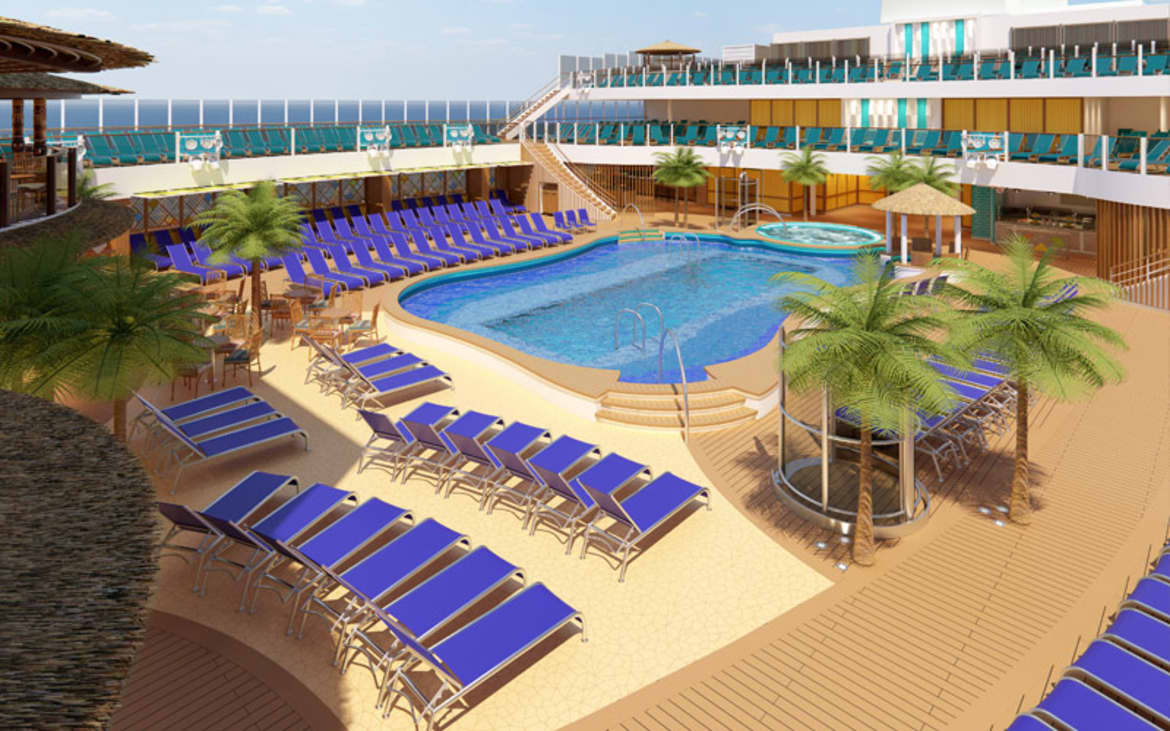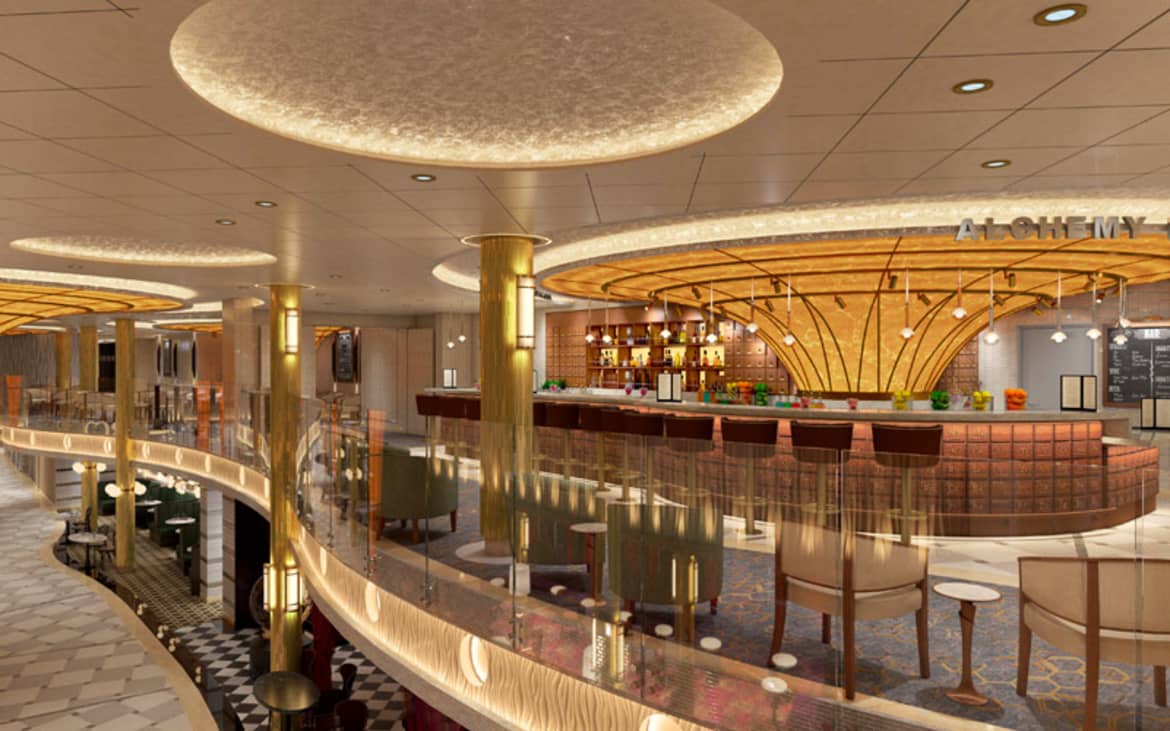 FULL SPECIFICATIONS
Name
Mardi Gras
Namesake
TSS Mardi Gras
Owner
 Carnival Corporation & plc
Operator
Carnival Cruise Line
Port of registry
Nassau,  Bahamas
Ordered
6 September 2016
Builder
Meyer Turku(Finland)
Cost
GB£1 billion (2020)[2]
Yard number
NB 1396[1]
Laid down
18 June 2019
Launched
24 January 2020
Sponsored by
Kimberly Jiménez
Christened
23 October 2021
Acquired
18 December 2020
Maiden voyage
31 July 2021
In service
2021–present
Identification
Status
In service
General characteristics
Class and type
Excellence-class cruise ship
Tonnage
181,808 GT[3]
Length
1,130 ft (340 m)
Beam
42 m (138 ft)[3]
Depth
11.8 m (39 ft)[3]
Decks
19
Propulsion
2 × 37MW Azimuth Electric Propulsion Drive[3]
Speed
23 knots (43 km/h; 26 mph) (projected)
Capacity

5,282 passengers (double occupancy)
6,500 passengers (maximum capacity)

Crew
2,000