Norwegian Breakaway is a cruise ship on the Norwegian Cruise Line. It, along with Norwegian Getaway, are the first two ships in "Project Breakaway" ordered by the Norwegian Cruise Line. They were named through a public contest; A contestant submitted the name Norwegian Breakaway, which was announced on 14 September 2011.
That said, Norwegian Breakaway is not for everyone, especially those on either extreme of the traditional cruising spectrum. Norwegian claims Freestyle means "what you want when you want it," an appealing concept for those who wish to be spontaneous and in control of their vacation experience. However, to make the most of your time on board, you really must plan ahead and make reservations before your trip (or early in the cruise), especially when it comes to dining in specialty restaurants or booking spa treatments. While you can take your chances and walk in, you need to give up some flexibility so as not to miss out.
On the flip side, Breakaway is also not a ship for those who prefer cruise traditions. The only old-school elements are singles gatherings, a small library (best to bring your own books), and mainstream ports. There's little true enrichment, and it can be hard to mingle with other passengers.
The beauty of Norwegian Breakaway is you can opt not to pay extra and still enjoy great outdoor spaces like Spice H2O and The Waterfront, all of the ship's marquee entertainment, and dining at the lovely, casual Uptown Grill buffet and O'Sheehans pub, not to mention delicious menus at Taste and Savor, two sit-down restaurants. No matter your cruising style, Breakaway offers a terrific experience.
Norwegian Breakaway cruise ship deck plan shows a total of 2014 staterooms (of 15 types in 42 categories:) for 3963 passengers (max capacity is 4819), served by 1660 crew-staff. The boat has 18 decks (14 passenger-accessible, 10 with cabins), 29 dining options (9 complimentary), 22 lounges and bars, 3 swimming pools, 5 waterslides, 9 Jacuzzis (outdoor whirlpool hot tubs), 16 elevators.
NCL Breakaway deck plan changes 2018 refurbishment review
The list of works done during the ship's drydock 2018 refurbishment (April 28 – May 8) at Damen Shiprepair Brest (France) included:
fully refreshed public spaces (new flooring/carpeting, updated furniture)
new carpeting in all staterooms
added Los Lobos Cantina (complimentary Mexican restaurant)
added Spice H20 (adults-only serenity deck with swimming pool, hot tubs, full-service bar, nightly live entertainment, DJs)
added Syd Norman's Pour House (former "Fat Cats Jazz and Blues Club") – changed decor, new carpets, furniture, live performances of classic rock songs, an updated drink menu
repair of shaft bearings, and replacing slewing seals of the vessel's two ABB azipod thrusters (propulsion units). The operation required both propellers to be removed from the hull. Both bow thrusters were also dismantled and maintained. Both Fincantieri-made stabilizers were refitted. The hull was repainted.
Drydock 2018 was part of NCL's "Norwegian Edge" program for fleetwide upgrades (a 2-year project budgeted for USD 400 million). Each drydock costs around USD 35-40 million.
PHOTOS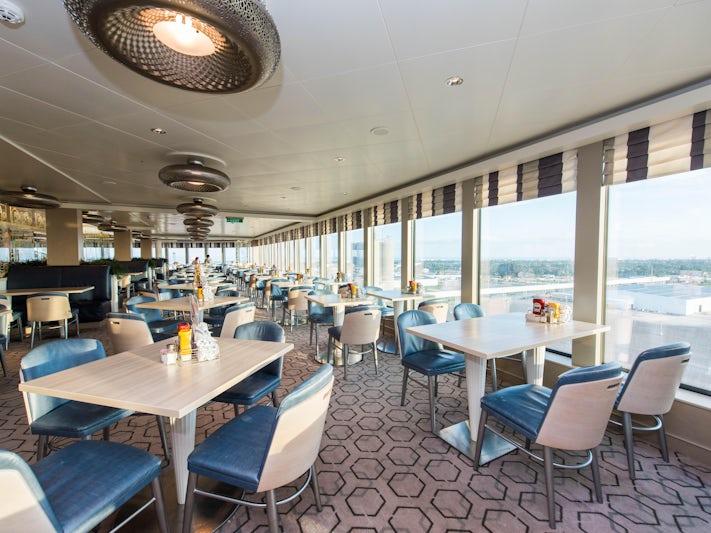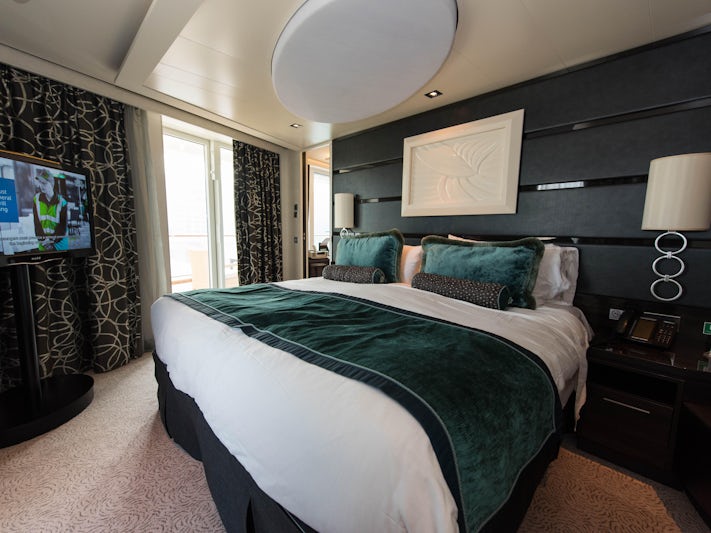 FULL SPECIFICATIONS
Name
Norwegian Breakaway
Owner
Norwegian Cruise Line
Port of registry
 Bahamas, Nassau[1]
Ordered
17 August 2011
Builder
Meyer Werft, Papenburg, Germany
Yard number
S678
Laid down
21 September 2011
Launched
30 April 2013
Christened
8 May 2013
Maiden voyage
30 April 2013
Identification
Status
In service
General characteristics
Type
Breakaway-class cruise ship
Tonnage
145,655 GT[1]
Length
325.64 m (1,068.4 ft)[1]
Beam
39.7 m (130.2 ft) – At Waterline[1] 51.7 m (169.7 ft) – Maximum[2]
Draft
8.6 m (28 ft)[1]
Decks
18
Installed power

2

 

×

 

MAN 14V48/60CR (2

 

×

 

16,800

 

kW)
2

 

×

 

MAN 12V48/60CR (2

 

×

 

14,400

 

kW)

Propulsion
Two ABB XO Azipods (2

 

×

 

17.5

 

MW) Three Brunvoll bow thrusters (3

 

×

 

3

 

MW)
Speed
21.5 knots (39.8 km/h; 24.7 mph)
Capacity
3,963[2]
Crew
1,657