Royal Princess is a Royal-class cruise ship operated by Princess Cruises, a subsidiary of Carnival Corporation & plc, and is the third ship to sail for the cruise line under that name.
Royal Princess measures 142,714 gross tonnage (GT), has a length of 330.0 metres (1,082 ft 8 in), a draught of 8.5 metres (27 ft 11 in), and a beam of 38.4 metres (126 ft 0 in). She is powered by a diesel-electric Genset system, with four total Wärtsilä engines, producing a total output of 62.4 megawatts (83,700 hp).
Main propulsion is via two propellers, each driven by an 18 megawatts (24,000 hp) electric motor. The system gives the vessel a service speed of 22 knots (41 km/h; 25 mph) and a maximum speed of 22.9 knots (42.4 km/h; 26.4 mph).
The ship houses 1,780 passenger cabins and 751 crew cabins. Of the 1,780 passenger cabins, 81% have a balcony. The Royal Princess has a maximum capacity of 5,600 passengers and crew.
Like other Princess Cruises ships, Royal Princess embraces many traditional components cruisers love and, through partnerships and technology, adds extras appealing to first-time cruisers.
It combines a full afternoon tea with craft cocktail presentations. Bingo, trivia, and game shows dominate the daily program and host special destination-themed events, like Puppies (or Parrots) in the Piazza, depending on the itinerary. Evening entertainment is mostly production shows and music events; you can also watch a recent release at Movies Under the Stars.
The modern and high-tech OceanMedallion, a personalization technology, is meant to make your cruise more convenient and service more intuitive. OceanMedallion, a small disk replacing the keycard, is used to open cabin doors automatically, embark and disembark, register food and drink preferences, and many more, particularly when paired with several apps.
Photos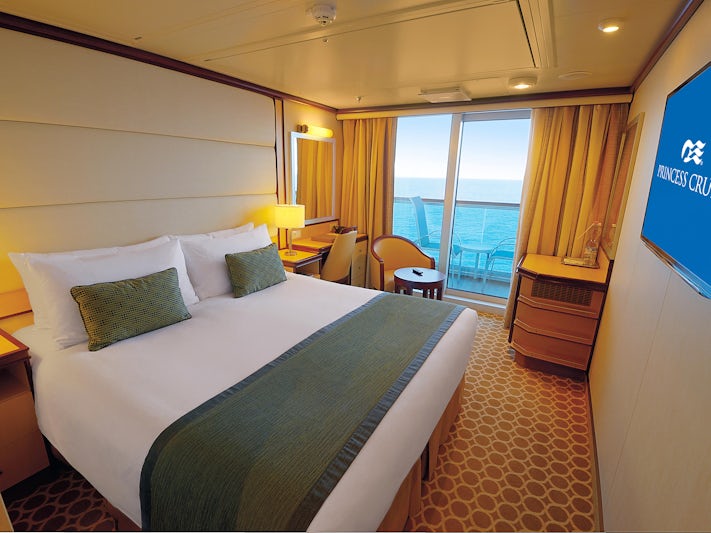 Full Specifications