World Dream is a cruise ship operated by Dream Cruises. She was initially ordered under the same name for Star Cruises. The ship was designed for the Asian cruise market and has a large number of restaurants together with a casino and specially designed cabins. She was formally named on 17 November 2017 by Cecilia Lim, wife of Genting CEO Lim Kok Thay, who became the godmother of the ship
World Dream is the sister ship of Genting Dream. Both luxury liners were constructed for the Asian shipping company Dream Cruises.
Genting Dream and World Dream are specially designed for Chinese cruise ship guests – starting with the colorful hull painting by Chinese pop artist, Jacky Tsai, who designed a love scene between a mermaid and an astronaut. Laser technology was used to project the motif onto the hull at the MEYER WERFT dock, and the design was then carefully painted over several weeks.
The outdoor lighting concept is just as spectacular. A dynamic LED lighting system conjures up extraordinary effects on the superstructure of the ship. These ships constructed for Dream Cruises are also the first ever to come with two small submarines, which can carry four people each and descend to a depth of 200 meters.
World Dream also carries a motorboat that can travel at up to 37 knots (approx. 68 km/h), offering passengers the perfect opportunity for a nice trip.
Modern engine technology, streamlined hydrodynamics, and numerous energy-saving features reduce running costs and improve the ship's carbon footprint.
MS World Dream (2017-built, last refurbished in 2020) is the second ship in the Dream Cruises fleet – a Chinese premium travel brand owned by the multinational corporation Genting Hong Kong (GHK). This is the second large-size cruise liner built for a Chinese company, preceded by the sistership Genting Dream (2016). The vessel features a modern design (similar to NCL Breakaway and NCL Getaway ships) and amenities rivaling the world's largest cruise liners from the fleets of the RCI-Royal Caribbean, Carnival and NCL-Norwegian. As GT tonnage, the Asian ship equals NCL Epic.
MS World Dream cruise ship deck plan shows a total of 1686 cabins for 3376 passengers (max capacity is 3400) served by 2017 crew staff. The ship has 14 passenger accessible decks (out of 19, 9 with cabins), 35 restaurants, bars and lounges, 2 swimming pools, 4 Jacuzzis, 16 elevators, Water Park (with 6 waterslides), an outdoor movie theater, 3D Cinema, Rope Course, Zip Line, over 1100 m2 (10760 ft2) of retail shops. The boat also has two mini-submarines (luxury submersibles) with capacity 4 passengers each.
Main dining places onboard are named "Windows" (MDR / dining room), "World Palace" (MDR / dining room), World Buffet (lido restaurant), Aeris Spa Cafe, Bread Box, Tiffin Cafe, Umi Uma Sushi Bar (Japanese), Silk Road & Cabaret (Chinese).
Main entertainment venues onboard are named Bar City (complex), Zouk (nightclub), World Casino, Red Lion Pub, Zodiac Theatre (999 seats, 3D movies), World Rouge Lounge, Cinema at Sea.
MS World Dream has the world's first permanent eSports gaming facility at sea. The 1700 ft2 (158 m2) sized venue is part of "VR Center" (virtual reality gaming complex with ESC Experience Lab). Ship's eSports facility has a capacity for 80 persons (live audience) and up to 10 players. eSports events are streamed live to all TVs and LED screens on the ship, including all staterooms, the indoor Zodiac Theatre and the outdoor theatre Zouk Beach Club. eSports video gaming competitions involve physical and mental training. eSports is officially admitted as a medal sport for the 2022 Asian Games (Hangzhou, China). eSports gaming is also a potential activity for the 2024 Summer Olympics (Paris, France).
PHOTOS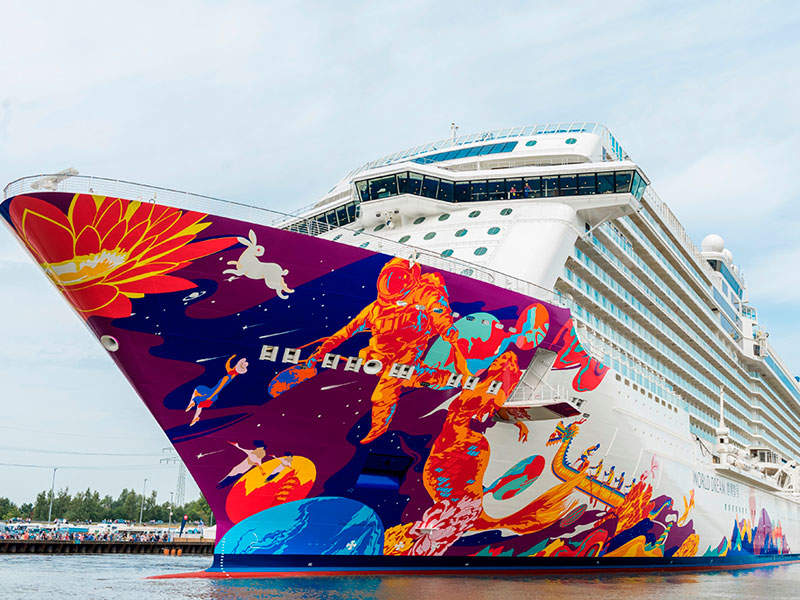 FULL SPECIFICATION
Name
World Dream
Owner
(GHK) Genting Hong Kong Ltd
Operator
Dream Cruises
Port of registry
Nassau,  Bahamas
Ordered
10 February 2014[1]
Builder
Meyer Werft
Yard number
S.712
Laid down
29 July 2015
Launched
26 August 2017
Sponsored by
Cecilia Lim
Christened
17 November 2017
Completed
26 October 2017
Maiden voyage
19 November 2017
Out of service
2 March 2022
Identification
Status
In service
General characteristics
Class and type
Genting-class cruise ship
Tonnage
150,695 GT[2]
Length
335.2 m (1,099 ft 9 in)[2]
Beam
Draft
8.622 m (28 ft 3.4 in)[2]
Depth
11.417 m (37 ft 5.5 in)[2]
Decks
18
Installed power

2 × MAN 14V48/60CR (16,800 kW)

3 × MAN 12V48/60CR (14,400 kW)

Propulsion
Speed
24 knots (44 km/h; 28 mph)
Capacity
3,376 passengers
Crew
2,000