The 2022 Audi e-tron GT is a bold-looking electric car with deep engineering ties to the Porsche Taycan. In fact, the two slinky four-door gran turismos were developed alongside each other and share a cutting-edge 800-volt propulsion architecture that allows faster charging and helps ensure performance stays consistent. Aiding the e-tron GT's dual electric motors, which produce between 522 and 637 horsepower depending upon the model, is an innovative two-speed transmission that enables breathtaking take-offs.
The Audi stands out from the Porsche with its more chiseled bodywork and busier front end. Inside, the e-tron is equally elegant and technologically advanced, with a selection of handsome materials and high-tech features.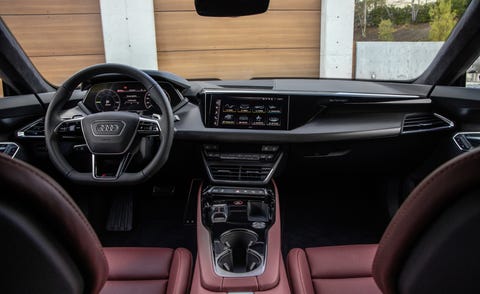 Engine, Transmission, and Performance
Packing a pair of electric motors that create an electrified version of Audi's Quattro all-wheel-drive system, the regular 2022 Audi e-tron GT generates up to 522 horsepower while the RS version peaks at 637 ponies. This power is converted to exhilarating acceleration with the help of its innovative two-speed transmission, which has a first gear for launches and a second top gear for optimal efficiency. A complex cooling system means its battery pack can handle repeated runs without the typical signs of heat-related degradation.
Audi also eschews traditional one-pedal driving on its sporty EV, instead, providing a more natural feel. The e-tron GT is available with all-wheel steering, an adjustable air suspension, and wheel sizes that range from 19 up to 21 inches. We've driven the RS version and appreciated its smooth ride, stable handling, and its selectable regenerative-braking settings, which can be adjusted via the paddles on the steering wheel.
Range, Charging, and Battery Life
Every 2022 Audi e-tron GTfeatures an 85.0-kWh lithium-ion battery, and Audi claims it will offer up to 238 miles of driving range. Since the e-tron's battery has slightly more usable capacity than the 83.7-kWh pack that powers the 2021 Taycan 4S, which is EPA-rated at 227 miles of range, we'd wager that the non-RS variant will have a similar figure. The e-tron GT can also be recharged from 5 to 80 percent of its battery capacity in a claimed 23 minutes using the standard 270-kW DC fast charger.
Fuel Economy and Real-World MPG
Audi hasn't announced how efficient the 2022 Audi e-tron GT will be. Once that information is released, and we have a chance to test one on our 75-mph highway route, which is part of our extensive testing regimen, we can evaluate how efficient the electrified sedan is in the real world. For more information about the e-tron GT's efficiency ratings, visit the EPA's website.
Interior, Comfort, and Cargo
Inside, the e-tron GT mixes fanciful and functional elements. The cabin incorporates multiple digital displays on its angular dashboard along with upscale trim. Audi offers a leather interior with different color options as well as a leather-free package that uses recycled materials. Of course, there's no shortage of available luxury features.
The top options include ambient interior lighting, a head-up display, heated-and-cooled front seats with massage functions, and more. Front-seat passengers sit low to the ground, which promotes a sporty driving position. The rear outboard seats provide ample legroom, but its headroom is less generous, and the middle seat is more courteous than comfortable. There's space for luggage behind the back seats and under the hood in the front trunk (frunk).
Infotainment and Connectivity
While the e-tron GT's infotainment system isn't as touchscreen-heavy as other Audi models' such as the A7 sedan and e-tron SUV, it's still visually exciting and loaded with popular content. The central touchscreen measures 10.1 inches and works with steering-wheel-mounted controls and voice-recognition software. Along with a subscription-based Wi-Fi hotspot, the e-tron GT is available with wireless charging and a powerful 16-speaker Bang & Olufsen sound system.
Safety and Driver-Assistance Features
For more information about the 2022 e-tron GT's crash-test results, visit the National Highway Traffic Safety Administration (NHTSA) and Insurance Institute for Highway Safety (IIHS) websites. The all-electric sedan has myriad driver-assistance technology, including adaptive cruise control as well as remote self-parking assist, which allows the driver to park the car via a smartphone app.
Full Specifications
2022 Audi RS e-tron GT
VEHICLE TYPE
front and rear-motor, all-wheel-drive, 5-passenger, 4-door hatchback
BASE PRICE
$140,945
POWERTRAIN
2 permanent-magnet synchronous AC
Combined Power
637 hp
Combined Torque
612 lb-ft
Battery Pack
liquid-cooled lithium-ion, 93.4 kWh
TRANSMISSION
1-speed direct-drive (front), 2-speed automatic (rear)
DIMENSIONS
Wheelbase: 114.2 in
Length: 196.4 in
Width: 77.3 in
Height: 54.9 in
Cargo volume: 12 ft3
Curb weight (C/D est): 5200 lb
PERFORMANCE (C/D EST)
60 mph: 3.0 sec
100 mph: 6.6 sec
1/4 mile: 11.1 sec
Top speed: 155 mph
EPA FUEL ECONOMY (C/D EST)
Combined/city/highway: 74/73/75 MPGe
Range: 220 miles
Photos