The Airbus A321XLR is the next step in the evolution of the Airbus single-aisle family. It builds on the overall Airbus commonality while adding the Xtra Long Range capability, increased revenue payload and better travel experience through the Airbus Airspace cabin. The entry into service is targeted for 2023.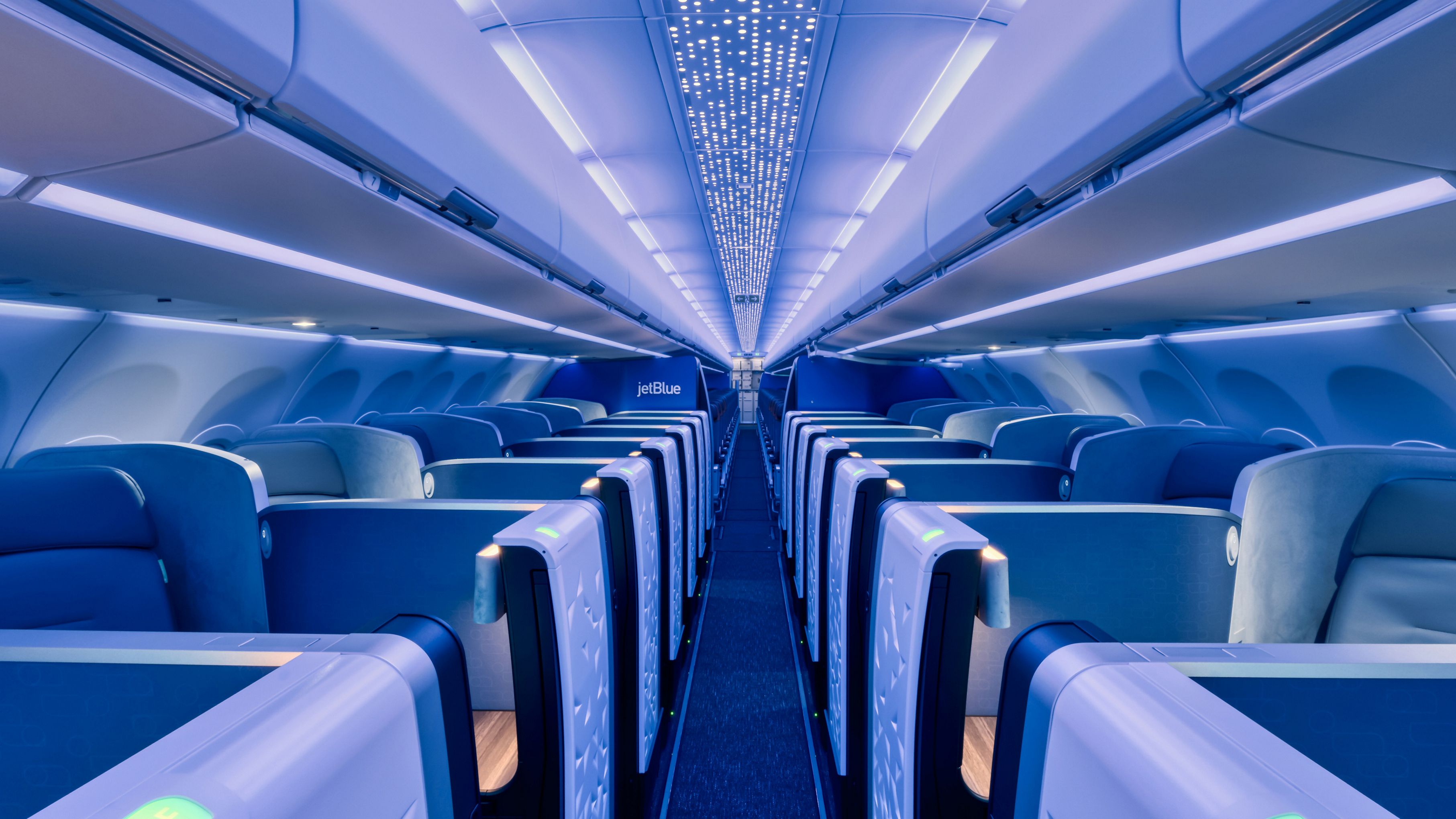 Longer range on single-aisle routes  
The Airbus A321XLR variant provides extended range for the A320neo Family's longest fuselage version, able to fly routes of up to 4,000 nm with 206 passengers by utilising extra fuel in three Additional Centre Tanks (ACTs).
Ideally suited to transatlantic routes, the A321LR allows airlines to tap into new long-haul markets that were not previously accessible with current single-aisle aircraft. Operators can outfit its cabin in state-of-the-art two-class configurations – including full-flat seats for true long-haul comfort – or in a single-class layout. The A321neo offers true long-haul comfort, featuring full-flat seats, low interior noise and latest IFE.
The A321LR's long-range capability was certified by the European Union Aviation Safety Agency (EASA) and U.S. Federal Aviation Administration (FAA) in October 2018. The first A321LR was delivered to launch customer Arkia Israeli Airlines in November 2018.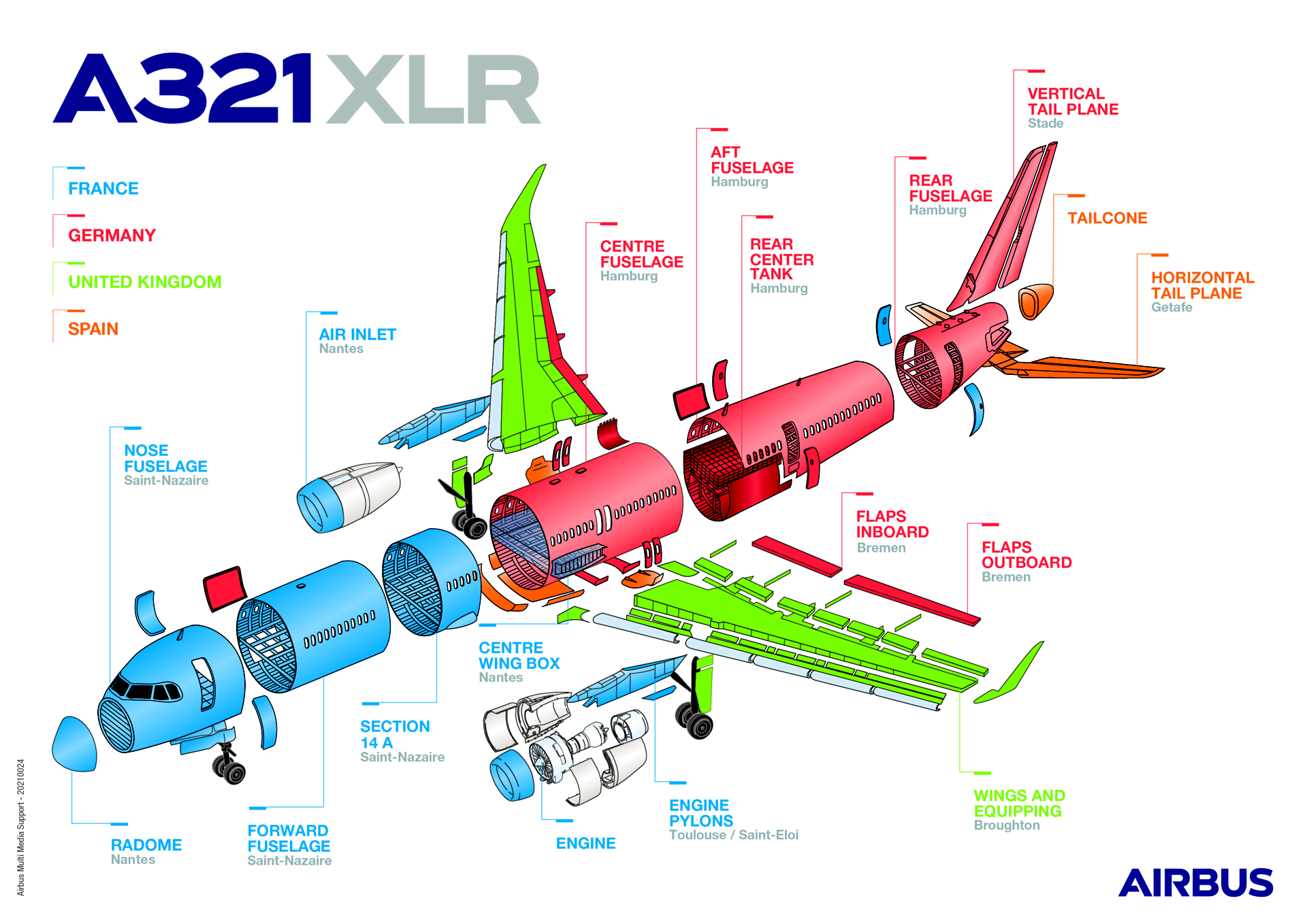 Efficiency and extra-long range
The A321XLR is extending the single-aisle jetliner offer as Airbus' next evolutionary step for the A321neo Family, with a service entry planned in 2023. It will offer even more range – up to 4,700 nm (8,700 km) – in a comfortable 2-class layout, thanks to an increased maximum takeoff weight (MTOW) of 101 tonnes, which enables the jetliner to be fitted with a permanent Rear Centre Tank (carrying 12,900 litres of fuel) and an optional forward Additional Centre Tank.
Aerodynamic-enhancing Sharklets on the wings and fuel-efficient engines ensure outstanding environmental performance: 20% lower fuel burn per seat, 5,000 tonnes less CO2 per year, and a noise footprint that is 50% lower for passengers and airports.
Configured with true long-haul full flat seats – or up to 244 passengers in single class layouts – the A321XLR cabin will benefit from the Airspace interior, featuring a range of cabin elements providing both tangible benefits for passengers and differentiation for airlines. With the A321XLR, the A320neo Family not only will share common cockpit ergonomics with the Airbus wide-body jetliners, but also will have a common cabin design language and the latest technology.
Among the new interior's enhanced elements are the largest overhead storage compartment (called "XL bins") with 40% more volume, as well as iconic ceiling lighting, new sidewall panels, a new lavatory design, new window bezels, and coloured LED lighting for the cabin.
With single-aisle flight times growing longer with the A320neo's increased range, Airbus prioritises in-flight wireless connectivity to enhance the passenger experience, while also keeping cabin personnel and flight crews informed of the on-board status.
The industry-leading quality and efficiency of Airbus' A320 Family – of which the A321 is a member – is being further enhanced with its new engine option (NEO) jetliner versions. Incorporating Airbus' "Sharklets" and two new engine choices, the A320neo Family offers maximum benefit with minimal changes from baseline A319s, A320s and A321s – delivering per seat fuel improvements of 20%, along with an additional range of up to 500 nautical miles/900 km. or 2 tonnes of extra payload for the new engine of the A320 plane which is to release.
Full Specification
| | | |
| --- | --- | --- |
| Cockpit crew | Two | Two |
| Seating | | 206 (2-Class) 220 (1-Class) |
| Exit Limit (Total possible passengers) | | Around 250 passengers |
| Length | | 44.51 m (146 ft 0 in) |
| Wingspan | | 35.8 m (117 ft 5 in) |
| Wing area | | 122.4 m2 (1,318 sq ft)[ |
| Tail height | | 11.76 m (38 ft 7 in) |
| Cabin width | | 3.70 m (12 ft 2 in) |
| Maximum takeoff weight | | Just over 100t |
| Cruising Speed | | Mach 0.78 (829 km/h; 515 mph) |
| Fuel capacity | | Just under 10,000 US gal |
| Range | | 4,700 nmi (8,700 km) |