This is the favorite in the light jet and Cessna family, the Cessna Citation V is modeled after the Citation SII with improved features such as a longer fuselage, more powerful engines, and increased cabin and baggage space.
When it comes to light jets, the Cessna Citation V is known for its reliability, performance, and cabin accommodations. This jet is able to take off and land on shorter runways than most light jets, making it a more spacious alternative to turboprops and very light jets with short runway capabilities.
The Cessna Citation V is a popular medium-range business jet for many reasons. The cabin measures 17.4 feet long, 4.8 feet in height, and 4.9 feet in length. The engineers used the extra cabin space to offer passengers 360 degrees, extra-wide rotating seats, and additional baggage space both internal and external. Able to carry several suitcases and golf bags, the Citation V is perfect for short trips.
It offers unique passenger comforts for a light jet including two-zone temperature control and a ventilation system used to eliminate drafts within the cabin. Triple-glazed windows and additional soundproofing make this jet one of the quietest light jets available and ideal for both business and personal trips.
The typical Cessna Citation V configuration can fit 7-9 passengers comfortably. This jet also offers an enclosed lavatory and a first-class refreshment center comes standard.
Photos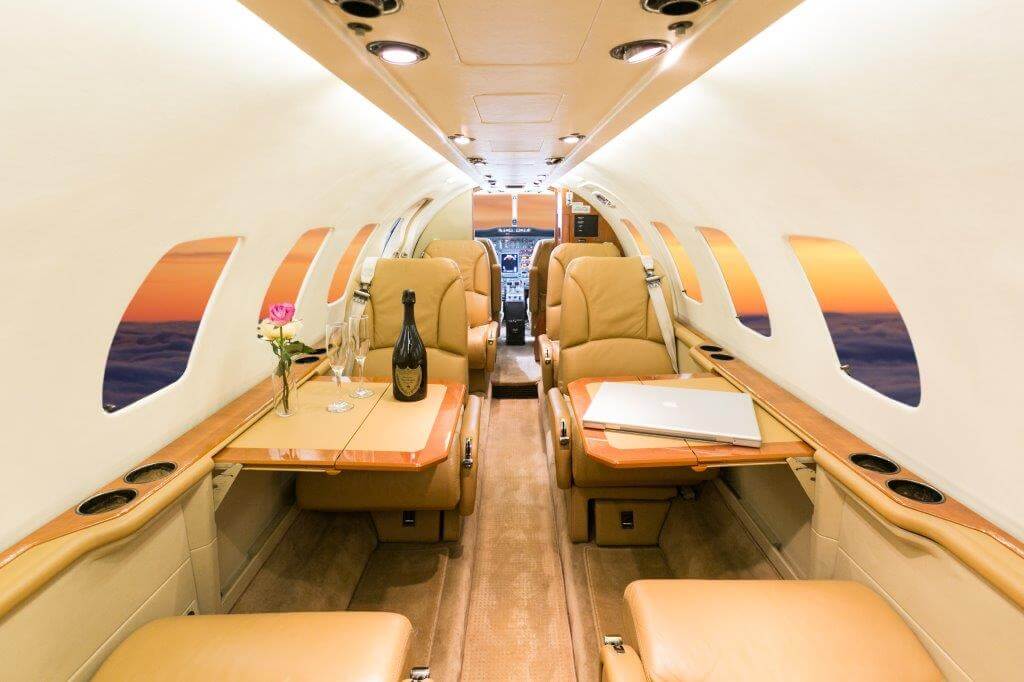 Full Specifications
Exterior
Exterior Height: 15 ft
Wing Span: 52 ft 2 in
Length: 48 ft 9 in
External Baggage: 41 cu ft
Interior
Cabin Volume: 310 cu ft
Internal Baggage: 26 cu ft
Operating Weights
Max T/O Weight: 15900 Lb
Max Landing Weight: 15200 Lb
Operating Weight: 9400 Lb
Fuel Capacity: 5770 lbs Lb
Payload W/Full Fuel: 930 Lb
Max Payload: 1800 Lb
Range
Normal Range: 1220 nm
Max Range: 1644 nm
Service Ceiling: 45000 ft
Distances
Takeoff Distance: 3160 ft
Balanced Field Length: 3740 ft
Landing Distance: 3750 ft
Performance
Rate of Climb: 3684 fpm
Climb Rate One Engine Inop: 1139 fpm
Max Speed: 397 kts
Normal Cruise: 397 kts
Economy Cruise: 350 kts
Cost per Hour: $ 2,416.24
Power Plant
Engines: 2
Engine Mfg: Pratt & Whitney Canada
Engine Model: JT15D-5A