Diamond Princess is a British-registered cruise ship owned and operated by Princess Cruises. She began operation in March 2004 and primarily cruises in Asia during the northern hemisphere summer and Australia during the southern hemisphere summer. She is a subclassed Grand-class ship, which is also known as a Gem-class ship.
Diamond Princess and her sister ship, Sapphire Princess, are the widest subclass of Grand-class ships, as they have a 37.5-meter (123 ft 0 in) beam, while all other Grand-class ships have a beam of 36 meters (118 ft 1 in). Diamond Princess and Sapphire Princess were both built in Nagasaki, Japan, by Mitsubishi Industries.
Diamond Princess is a treasure trove of exceptional delights waiting to be discovered. Dine on freshly prepared sashimi in Kai Sushi, watch street performers in the dazzling Atrium, or take in a lavish production show in our state-of-the-art theater. And for a unique treat visit the Izumi Japanese Bath, the largest of its kind at sea.
Make your vacation truly yours on a Princess MedallionClass cruise that features next-level technology, now on all ships. Enjoy fast, reliable Wi-Fi, TrulyTouchless experiences, food, and drinks delivered wherever you are and so much more.
Photos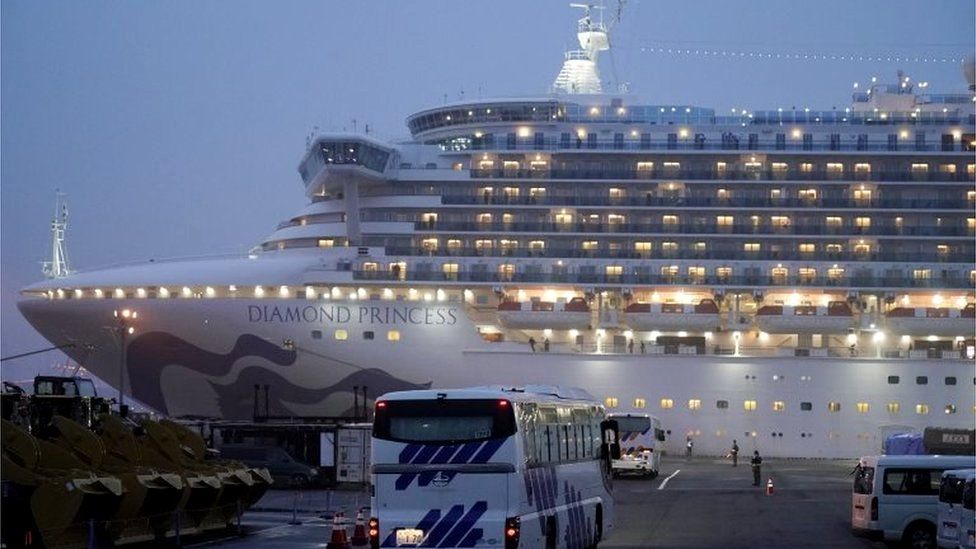 Full Specifications
Name
Diamond Princess
Owner
Carnival Corporation & plc
Operator
Princess Cruises
Port of registry
Builder
Mitsubishi Heavy Industries
Cost
US$500 million
Yard number
2181
Laid down
2 March 2002
Launched
12 April 2003
Christened
2004
Completed
26 February 2004
Maiden voyage
2004
In service
March 2004
Identification
Status
Service suspended
Notes
[1]
General characteristics
Class and type
Gem-class cruise ship
Tonnage
115,875 GT
Length
290.2 m (952 ft 1 in)
Beam
37.49 m (123 ft 0 in)
Height
62.48 m (205 ft 0 in)
Draught
8.53 m (28 ft 0 in)
Decks
13
Installed power
Wärtsilä 46 series common rail engines
Propulsion
Twin propellers
Speed
22 knots (41 km/h; 25 mph)
Capacity
2,670 passengers
Crew
1,100 crew