Crown Princess is a Crown-class cruise ship owned and operated by Princess Cruises. Her maiden voyage took place on 14 June 2006, departing Red Hook, Brooklyn (New York) for Grand Turk (Turks & Caicos), Ocho Rios (Jamaica), Grand Cayman (Cayman Islands), and Port Canaveral (Florida).
Crown Princess is a progression from the design of the Grand Class–series ships. The use of light alloy has enabled an additional passenger deck to be added, with 255 extra cabins accommodating 20% more guests.
Crown Princess offers a huge range of entertainment, with theatres, pools, shops, a wellness center, a library, a casino, and a spectacular disco right at the stern with stunning views from over forty meters above the sea.
Power is generated by four WNSD 12 V46CR 12,600-kW diesel units and two WNSD 8L46CR 8,400-kW units, making a total of 67,200 installed kW. Propulsion is courtesy of two electric engines, one per shaft, developing 21 MW each.
Debuted in 2006 and last refurbished in April 2018, the 3,080-passenger Crown Princess features some mega-ship amenities like a casino, a kids club, and a 300-square-foot poolside theater.
The ship also features quiet nooks, like a library and the Sanctuary (an adults-only area that requires an extra fee). Updates for 2018 included new luxury beds in every room, new dining venues, and an upgraded spa.
Past cruisers on the Crown Princess were satisfied with the ship's relaxing atmosphere, describing public areas as pleasant and rarely overcrowded. Another main selling point for previous guests is the ship's versatile dining choices.
Cruisers can choose from 13 eateries, including three formal dining rooms and a poolside pizzeria. For specialty dining, guests can choose between Italian at Sabatini's, burgers at The Salty Dog Gastropub, and more.
Photos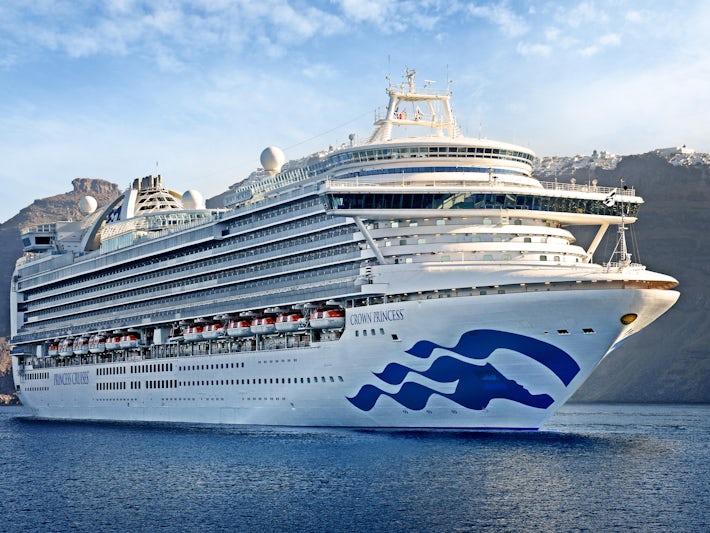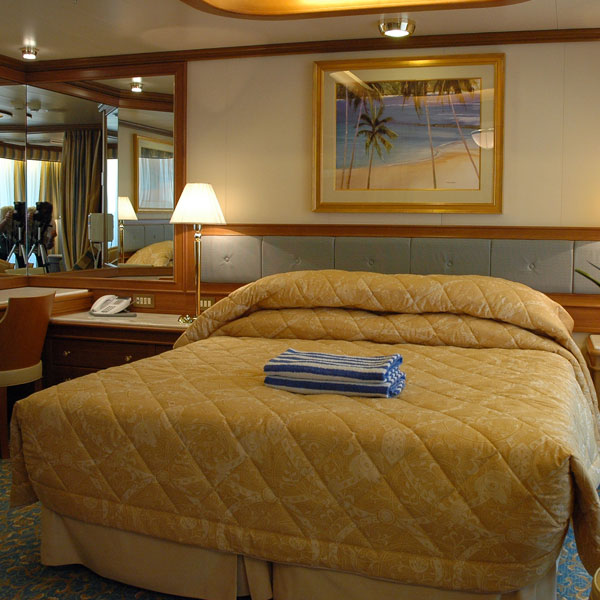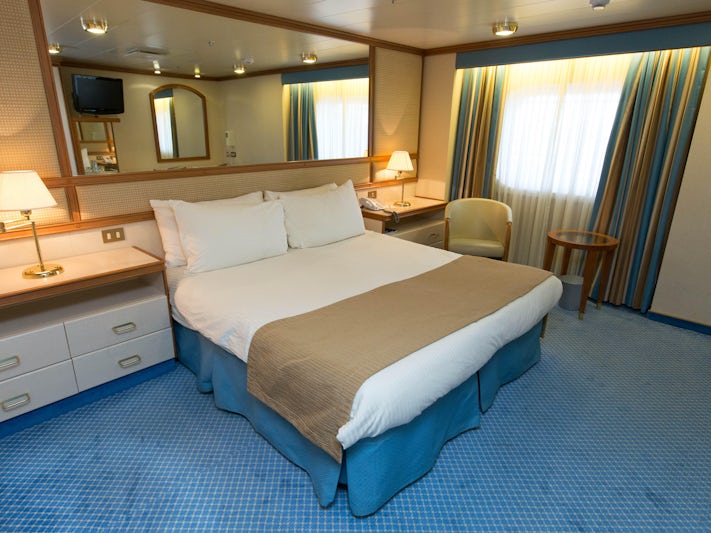 Full Specifications
Name
Crown Princess
Owner
Carnival plc
Operator
Princess Cruise Line
Port of registry
Hamilton, Bermuda
Builder
Fincantieri
Laid down
3 May 2004
Launched
9 September 2005
Completed
26 May 2006
Maiden voyage
14 June 2006
Homeport
Port Everglades, Florida & Southampton, United Kingdom
Identification
IMO number: 9293399
Status
In service
General characteristics
Class and type
Crown-class cruise ship
Tonnage
113,500 GT
Length
288.7 meters long
Beam
waterline: 118 ft (36 m)
Height
195 ft (59 m)
Draught
27.32 ft (8.33 m)
Depth
37.4 ft (11.4 m)
Decks
19 with no 13th
Installed power
Wärtsilä–Sulzer 16ZAV40S and 12ZAV40S diesel engines
Propulsion
two 6 blade fixed pitch propellers and 6 thrusters , being 3 bow and 3 stern propulsion (19 MW each)
Speed
maximum: 21.5 knots (39.8 km/h; 24.7 mph)
Boats & landing
craft carried
24 boats
Capacity
maximun passenger capacity is 4,800 according to shipyard
Crew
1,201