MV Britannia is a cruise ship of the P&O Cruises fleet. Fincantieri built her at its shipyard in Monfalcone, Italy. Britannia was the flagship of the fleet, taking the honor from Oriana before being superseded by Iona in 2020. She officially entered service on 14 March 2015,[3] and was named by Queen Elizabeth II. Her first captain was Paul Brown.
Combining the excitement of cruising with the sophistication of a five-star hotel, P&O Britannia offers the perfect setting for those looking to travel in comfort and style. Whether you're sailing as a family, heading out to sea alone or enjoying a couple's getaway, this fantastic cruise ship has everything you need for the holiday of a lifetime.
Onboard the family-friendly MV Britannia, you'll not only find cabin options to cater to all your party's needs but also exceptional family facilities and activities for all ages. From anytime dining making mealtimes stress free to complimentary, dedicated kids clubs and even a family pool, guests of all ages can make the most of their time at sea.
P&O MV Britannia is a cruise ship much loved for her nighttime entertainment. Once evening arrives you can take in the different stunning views in the Sunset Bar, enjoy a pint and some pub games in Brodie's or stop out till late at night owls' favourite, the Crow's Nest, complete with live music and DJ. Even better, with P&O Cruises there's plenty of drinks package options to cater to all tastes and tipples.
MV Britannia cruise ship deck plan shows 1837 staterooms for 3647 passengers (max capacity is 4406) served by 1350 crew staff. The boat has 17 decks (14 passenger-accessible, 8 with cabins), 10 dining options (restaurants/cafes/food bars), 13 lounges and bars (4 of which outdoor), 9 entertainment venues, 4 swimming pools, 9 Jacuzzis (outdoor whirlpool hot tubs), 12 elevators (4 forward, 4 midship/panoramic, 4 aft), no wraparound Promenade. The ship features full Wi-Fi coverage (shipwide) and a multi-million art collection throughout.
Note: On P&O MV Britannia ship, launderettes are located on decks A, B, C, D, E, F, G. These are passenger use laundry facilities (open 8 am – 10 pm, complimentary), complete with dryers, washers, ironing boards. Detergent costs extra, or you can use your own. Dry cleaning (called Wascomat or Aquatex /eco-friendly wet cleaning) is available, with service charges per item. List with dry-cleaning prices is available in all cabins.
Britannia ship's Interior is designed by "Richmond International". This is a leading UK designer company with quite a number of famous British hotel projects.
P&O MV Britannia deck plan changes 2019 refurbishment review
The cruise liner's first drydock refurbishment was in 2019 (October 8-22) at Damen Shipyard Brest (France). During the drydock works were implemented the following changes:
All interiors were refreshed (shipwide).
(Landing Deck 5 / midship Lobby) a permanent Art Gallery was added (adjacent to Blue Bar / Atrium bar)
(deck 5 midship) The Atrium was redesigned with new color schemes and relaxed live entertainment (music, informal acts).
(deck 5 midship) Market Cafe's menu upgraded with new gourmet sweets (recipes by Eric Lanlard / French patissier and celebrity chef)
(deck 5 forward) To Oasis Spa and Salon (ship's wellness complex) were added two express pods for treatments – one for high-tech spa massages, the other for express skin treatments and LVL lash lifting.
(Tween Deck 6) The onboard shopping was upgraded with new luxury brands – Jo Malone London (candles), Tom Ford (designer fashion), Michael Kors (designer clothing and accessories, handbags, watches, shoes), and Clifton (custom design clothing), Edinburgh Gin (alcohol).
(Main Deck 7 midship-starboard) Java Cafe (buffet restaurant's) menu was upgraded with alcoholic beverages.
(deck 7 midship-aft-starboard) Photo Gallery upgraded with Dixons Electronics Hub selling gadgets (imaging, computing, audio) from premium brands like Amazon, Apple (electronics, computer software), Microsoft (software), Sony (electronics, gaming), Canon (imaging and optical products), Fitbit (trackers, wireless wearables), GoPro (action cameras), Bose (audio devices/headphones, speakers, wearables).
PHOTOS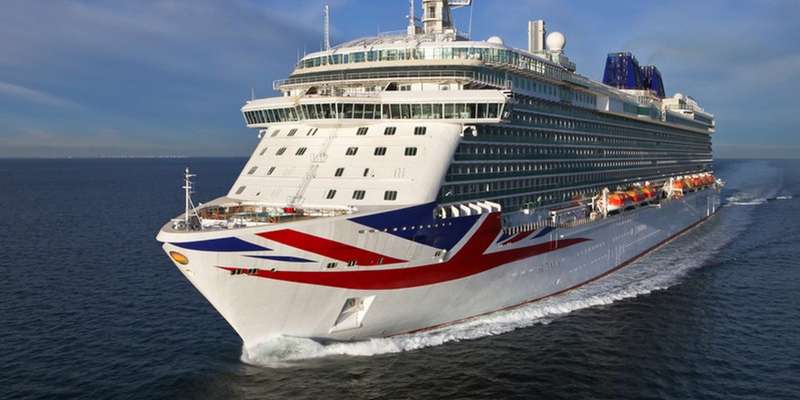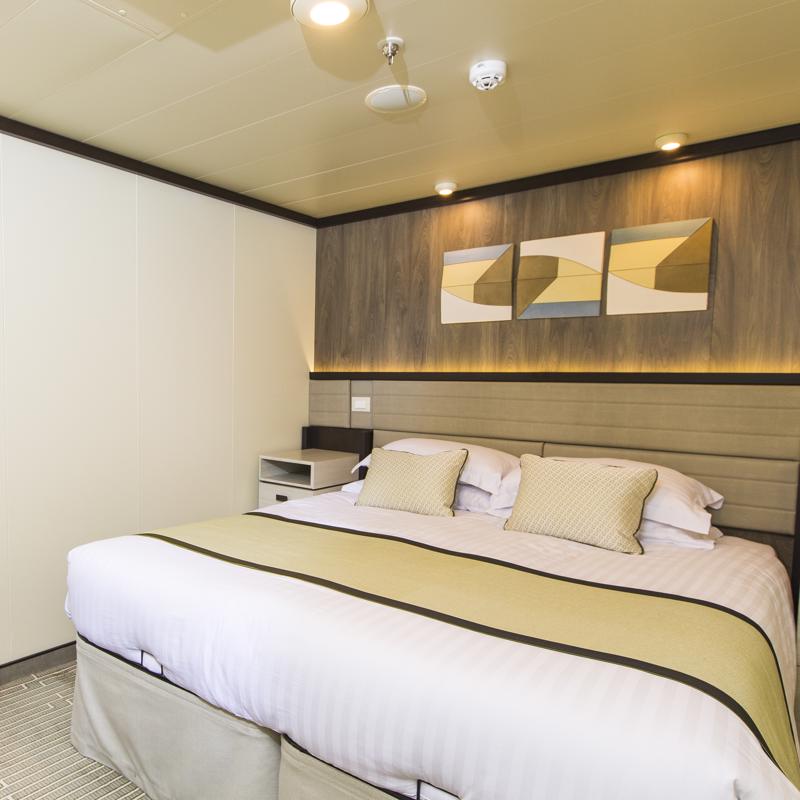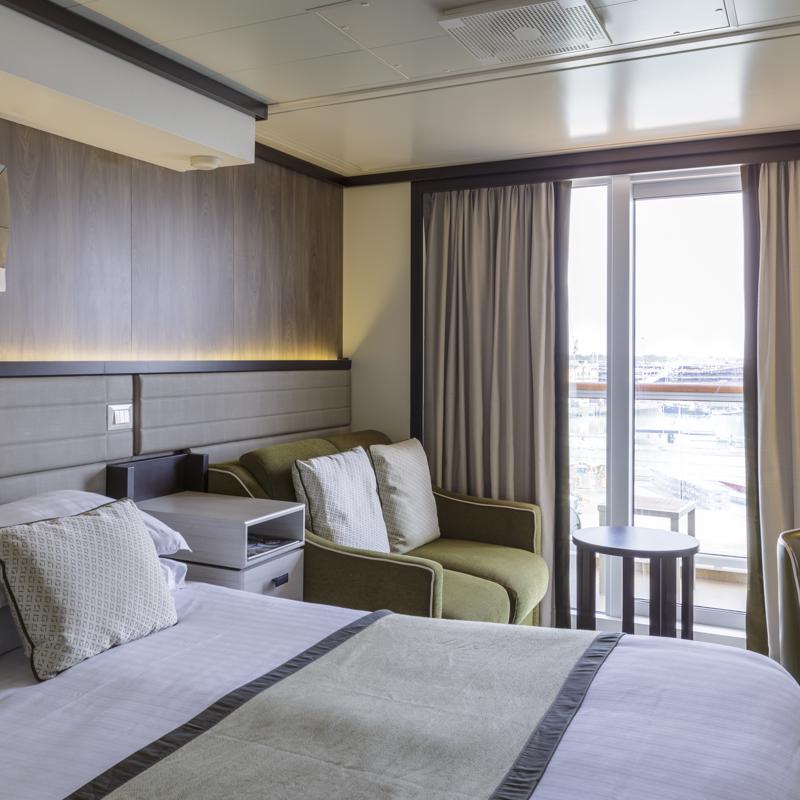 FULL SPECIFICATIONS
Name
Britannia
Owner
Carnival Corporation & plc
Operator
P&O Cruises
Port of registry
 Southampton, U.K.
Ordered
2011
Builder
Fincantieri, Monfalcone, Italy
Cost
GB£473 million
Yard number
6231
Laid down
15 May 2013
Launched
14 February 2014
Christened
10 March 2015 by Queen Elizabeth II
Completed
26 February 2015
Maiden voyage
14 March 2015
In service
14 March 2015
Identification
Status
In service
General characteristics
Class and type
Royal-class cruise ship
Tonnage
Length
330 m (1,082 ft 8 in)
Beam
44 m (144 ft 4 in)
Height
70.67 m (231 ft 10 in)
Draft
8.55 m (28 ft 1 in) (max)
Decks
15 passenger decks
Installed power
Total 36,000 kW (48,000 hp)
Propulsion
Wärtsilä 12V46F x 2 & Wärtsilä 14V46F x 2 & propulsion electric motors – 2 x VEM Sachsenwerk GMBH
Speed
21.9 knots (40.6 km/h; 25.2 mph) at 136 rev/min
Capacity
3,647 passengers
Crew
1,398