Regal Princess is a Royal-class cruise ship operated by Princess Cruises, a subsidiary of Carnival Corporation & plc, and is the second ship to sail for the cruise line under this name.
Regal Princess, as well as her sister ship Royal Princess, were ordered on 17 February 2010 from Fincantieri and were constructed at the Fincantieri shipyard in Monfalcone, Italy, and debuted in 2014.
Regal Princess is unmistakably elegant, accomplishing something mainstream cruise ships occasionally struggle with: finding a balance between fun and refinement. The decor is comfortable, with warm tones and plenty of wood and marble.
The Piazza, a hallmark of the line, is truly grand; it's large, encompasses three decks, and has three bold spiral staircases. At night, it's where you'll want to spend your time watching people, listening to music, or sipping cocktails.
Regal Princess
features include the
SeaWalk
, a cantilevered glass walkway that juts out from the Lido Deck, allowing passengers to take in unobstructed views of the sea below. It's a fun touch, though it loses its appeal after you've taken the walk once.
A highlight on board is the food, which we enjoyed in most venues. The buffet offers tremendous variety, with many options for international palates, and the for-fee restaurants — specifically Sabatini's and Crown Grill — are reasonably priced.
Still, those who don't want to pay to have enough options that they won't feel slighted. Conversely, those who want to splurge on the Chef's Table and the Winemaker's dinner will likely feel as if it was money well spent.
Photos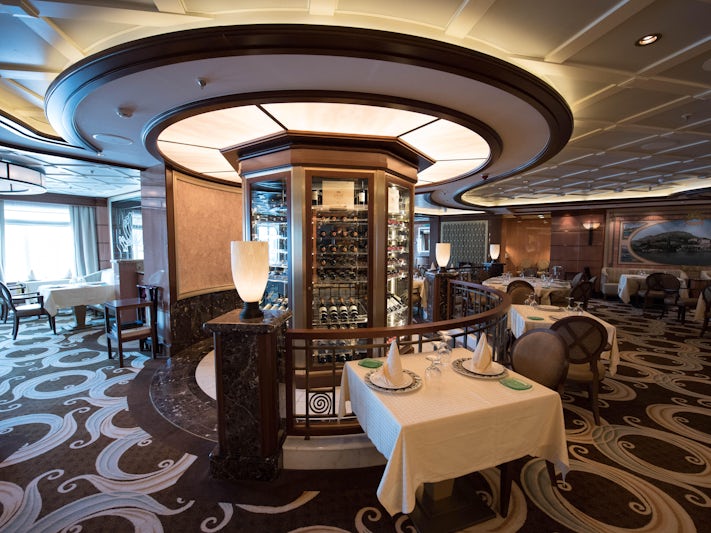 Full Specifications
Name
Regal Princess
Owner
 Carnival Corporation & plc
Operator
Princess Cruises
Port of registry
Hamilton,  Bermuda
Ordered
4 May 2010[3]
Builder
Laid down
28 August 2012[4]
Launched
26 March 2013[1]
Sponsored by
Christened
5 November 2014[5]
Acquired
11 May 2014[2]
Maiden voyage
20 May 2014[6]
In service
2014–present
Identification
Status
In service
General characteristics
Class and type
Royal-class cruise ship
Tonnage
142,714 GT[7]
Length
330 m (1,082 ft 8 in)[7]
Beam
38.27 m (125 ft 7 in)[7]
Height
66 m (216 ft 6 in)
Draft
8.57 m (28 ft 1 in)[7]
Decks
19
Installed power
Propulsion
2 × 18,000 kW (24,000 hp)[7]
Speed
Capacity
3,560 passengers
Crew
1,346