The 1010 Yacht is one of the largest superyachts currently under construction in the Netherlands. The 118-meter Feadship 1010, was unveiled for the first time yesterday as the vessel emerged from its metal construction facility near Rotterdam.
The 1010 Yacht will now be transported to Feadship's outfitting yard in Makkum where the builder has completed some of its largest superyachts over the years.
Imposing 118m (387'13") mega yacht FEADSHIP 1010 is scheduled for delivery in 2022 and boasts innovative design features with the latest in amenities and technology onboard.
As expected by any yachts built by Feadship, she is completely custom-built with great attention to detail and quality, boasting amazing on-deck spaces, with numerous saloons, dining areas, relaxation, and entertainment features.
Photos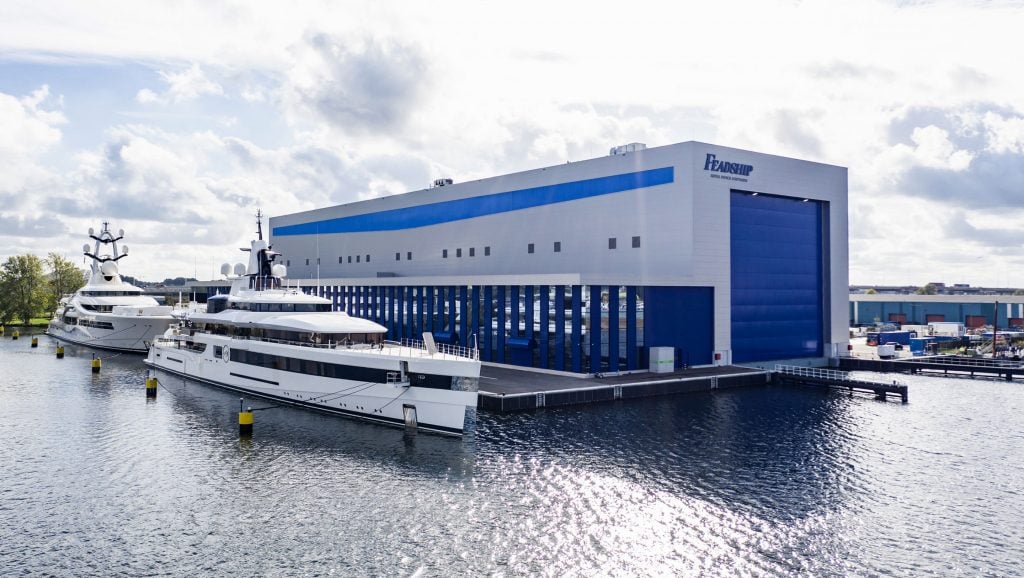 Full Specifications
| | |
| --- | --- |
| Legal Name: | First Export Association of Dutch Shipbuilders |
| Founder: | De Vries, Van Lent, De Voogt |
| Founded in: | 1949 |
| Headquarters | Haarlem, the Netherlands |
| CEO: | Jan Bart Verkuyl (Van Lent) – Henk de Vries (De Vries) |
| Employees: | > 400 |
| Turnover: | > $ 200 million |
| Subsidiaries: | De Voogt Naval Architects, Royal Van Lent Shipyard, Koninklijke De Vries Scheepsbouw |